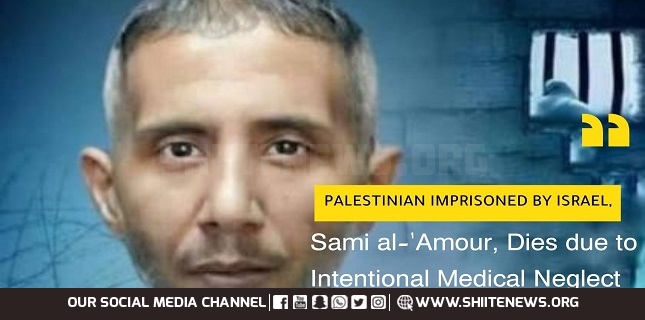 Palestinian prisoner, Sami Abed Mahmoud Al-Amour (39), from Deir al-Balah refugee camp, embraced martyrdom after he was transported from "Nafhah" prison to "Soroka" Hospital due intentional medical neglect by the Israeli jail authorities. The prisoner, who spent 13 years in prison, suffered from health problems, including blockage of coronary arteries.
The Israeli occupation authorities arrested Al-Amour on 01 April 2008 and sentenced him to 19 years in prison. Al-'Amour had health problems throughout his imprisonment period as he suffered from a congenital heart defect and blockage of arteries.
The Israeli authorities did not provide him the adequate treatment for his diseases, so his health deteriorated and he was transported to "Soroka" hospital in Beersheba, where he was pronounced dead earlier today.
Alaa al-Aaraj, a Palestinian prisoner who has been on hunger strike for 103 days in protest of his administrative detention by the Israeli enemy, ended his hunger strike today after reaching out an agreement with the Israeli occupation authorities ending his detention without charge or trial.