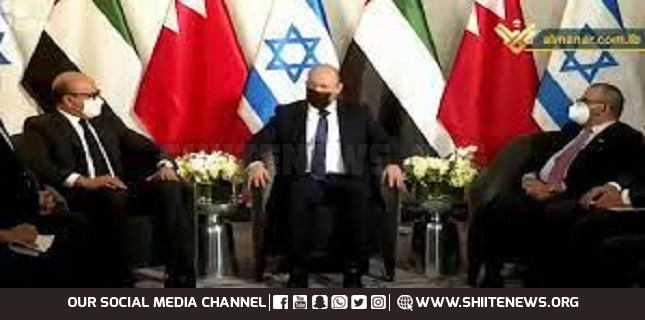 To consecrate the normalization path, the Zionist prime minister Naftali Bennett met on the sidelines of the UNGA session in New York with UAE's and Bahrain's foreign ministers, Anwar Gargash and Abdullatif Al-Zayani.
Bennett had stressed in his UNGA address that the Iranian nuclear program will reach its peak, warning against the Iranian drones 'threat'.
Iran is trying to cover all the Middle East Skies with its dangerous drones which can strike ant target at any time, according to Bennett.
Meanwhile, Bennett deliberately avoiding tackling the Palestinian cause in his speech, which pushed the Zionist analysts to say that this would not solve the problem of the conflict.