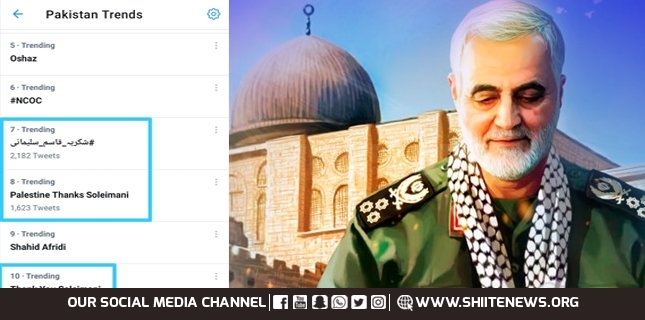 Shiite News: Following the recent Israeli aggression on Palestine and the call for a ceasefire by the occupying Israeli forces as a result of Hamas's full-scale retaliation, on the historic victory of the Islamic Resistance Front, social media users called Shaheed Qasim the main character and key supporter of this war. Great tribute to Soleimani. On social networking site Twitter, Shaheed Rah-ul-Quds has joined the top 3 trend list to pay homage to Shaheed Sardar Qasim Soleimani.
According to the details, thousands of social media users around the world joined the Islamic Resistance Front in this war after the historic victory of the Palestinian people following the Israeli demand for an end to the 11-day war on Israeli barbarism in Gaza and the brilliant defense strategy of the Islamic Resistance Organization Hamas. Sardar Qasim Soleimani, the most important and central supporter and supporter of the martyr, who was given the title of martyr by Hamas leader Ismail
Haniyeh, has been remembered in wonderful words by setting 3 trends on Twitter to pay homage to him.
#ThankYouSoleimani, #PalestineThanksSoleimani, #thanks_qasim_soleimani
Three trends are currently on the list of top trends in Pakistan.
Thousands of social media users from around the world are using these hashtags in their message to commemorate the services of Martyr of the way of Al Quds, Sardar Qasim Soleimani, his struggle to arm unarmed Palestinian Muslims.
It should be noted that the services and sacrifices of Iran and Qasim Soleimani for the defense of Palestine have been acknowledged by the political leadership of Hamas and Islamic Jihad, while the wounded Israeli Prime Minister has repeatedly blamed Iran for his defeat. If Iran had not been behind Hamas and Islamic Jihad, we would have eliminated them in a week.