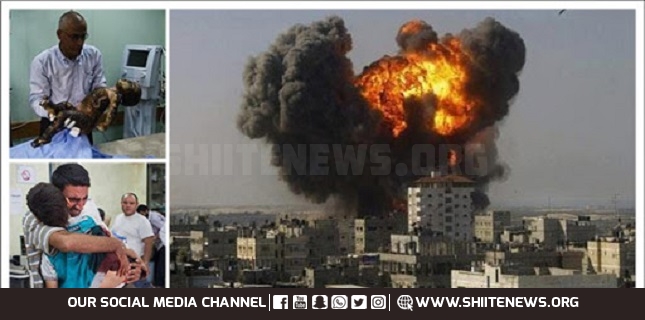 The number of Palestinian victims from the Israeli continued aggression on the besieged Gaza Strip and West Bank rose to 209 martyrs and more than 5600 wounded.
On Sunday, 26 Palestinians, including an infant, seven children and 10 women were martyred and more than 50 others were wounded in the bombing of the Israeli warplanes at dawn today on al-Wehda Street in the besieged Gaza Strip.
Palestinian Maan News Agency reported that the Israeli warplanes targeted Palestinian homes in al-Wehda Street in al-Rimal neighborhood in the western Gaza Strip.
The medics and civil defense teams are still recovering the bodies of the martyrs and rescuing the wounded in al-Wehda street and they face great difficulty due to the heavy bombing by the Israeli warplanes.
This brings the number of victims of the continuous Israeli aggression on the Gaza Strip for the seventh day to 209 martyrs, including 45 children and more than 5,600 wounded, in addition to severe damage to property and infrastructure in various areas of the Strip.