Palestine
Hamas officials among many citizens kidnaped by IOF in W. Bank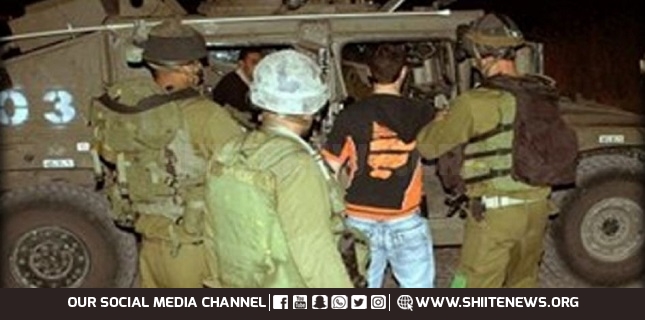 The Israeli occupation forces (IOF) last night and at dawn Monday kidnaped several Palestinian citizens, including Hamas officials, during large-scale arrest campaigns in the West Bank and Jerusalem.
According to local sources, the IOF stormed different neighborhoods of al-Khalil at dawn and kidnaped three Hamas officials from their homes. The detainees identified as Anas Rasras, Omar al-Qawasmi and Mustafa Shawar.
The IOF also kidnaped a young man identified as Mohamed Abu Mariya from Beit Ummar town in northern al-Khalil. His father Wahid Abu Mariya had been released two days ago.
In Jenin, the IOF kidnaped a female activist and ex-detainee called Mona Qa'dan after searching her house in Arraba town.
Qa'dan had been arrested five times before and spent a total of seven years in different Israeli jails.
Meanwhile, two brothers identified as Hammouda and Ramez as-Sameer were taken prisoners during an IOF raid on their house in Jenin City.
In Bethlehem, the IOF kidnaped an ex-detainee called Hammad Abu Mariya at the Container crossing in the northeast of the city.
10 other young ex-detainees were taken prisoners during an IOF campaign in Teqoa town in southern Bethlehem. All of them are from the family of al-Amour.
In Ramallah, the IOF raided homes in Deir Jarir town and kidnaped a young man called Mahmoud Maali and another citizen called Abdul-Aleem Alawi, the father of prisoner Maan who was kidnaped about one week ago.
The IOF also stormed other West Bank areas, with no reported arrests.
In Jerusalem, Israeli plain-clothes soldiers kidnaped 18-year-old Adam Qara'in after severely beating him in Ras al-Amud neighborhood of Silwan district.
Three other young men were also kidnaped by police forces from their homes in at-Tur neighborhood in east Jerusalem.
In a separate incident, a citizen from Gaza was detained by the IOF after he allegedly tried to infiltrate into Israel (the 1948 occupied lands).
The Israeli occupation army claimed that its forces in northern Gaza detained an unarmed Palestinian for some hours and released him after questioning him.