Palestine
Israeli Enemy Bulldozers Raze Palestinian Lands South of Al-Aqsa Mosque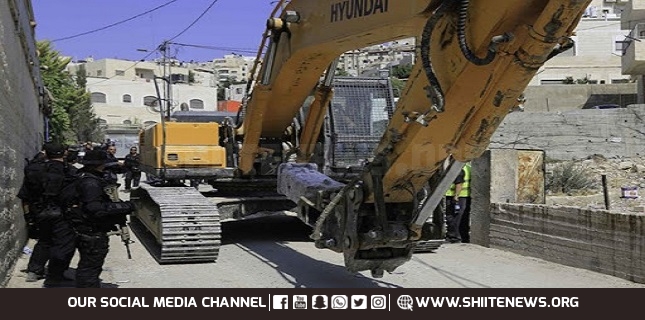 The Israeli Enemy authorities have confiscated a vast tract of private Palestinian land as the Tel Aviv regime presses ahead with expansionist land-grab policies in violation of international law and UN Security Council resolutions.
The Palestinian Information Center, citing local sources reported on Sunday that Israeli forces carried out large-scale bulldozing activities in the Palestinian neighborhood of Wadi Rababa in Silwan district, south of the al-Aqsa Mosque in the occupied holy city of Jerusalem al-Quds.
They also chopped down hundreds of olive trees belonging to Palestinians.
Video footage recorded by local residents showed bulldozers under the Israeli protection leveling swathes of lands and uprooting the trees in the area.
Israeli authorities usually demolish Palestinian homes in the occupied West Bank, claiming that the structures have been built without permits. They also sometimes order the Palestinian owners to demolish their own homes or pay the demolition costs to the municipality if they do not.
Israeli Prime Minister Benjamin Netanyahu has announced that he would start plans for annexing more areas in the occupied West Bank, in accordance with US President Donald Trump's "deal of the century" scheme, further infuriating Palestinians.
Trump officially unveiled his scheme in January last year at the White House with Netanyahu on his side, while Palestinian representatives were not invited.