Palestine
Gaza keeps suffering from extreme weather, flooding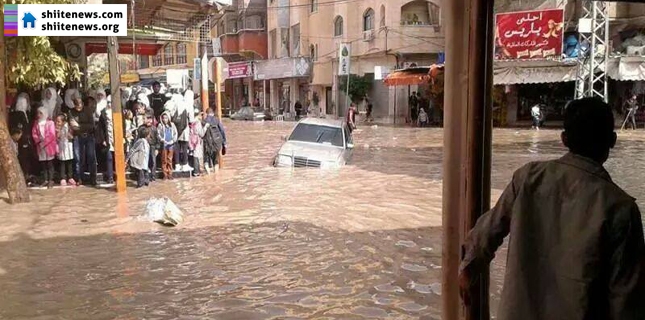 The Gaza Strip has witnessed extreme weather and severe flooding over the past several days, Press TV reports.
People in some neighborhoods have been forced to leave their homes due to the floods triggered by poor infrastructure, which was damaged in Israel's latest war on the besieged strip.
The flooding has forced residents in the Nafaq neighborhood to stay indoors, waiting for emergency aid.
"It happened last year, and it's happening again now. The water level has exceeded two and a half meters and flooded into my home. We had to stay on the second floor after our apartment was completely flooded. We will lose our home this way," an affected Gaza resident told Press TV.
Gazan authorities have rushed to deal with the crisis, with repair operations underway to enhance the capacity of drainage systems.
The devastating floods have already badly affected Gazans, with prices of their homes sharply decreasing. "Nobody is interested in this land as water floods destroyed the farmlands. I had to evacuate and rent a home in a different neighborhood. This is unfair," another Gaza resident said.
The flooding has exacerbated the already dire humanitarian situation in Gaza caused by the Israeli blockade and the unprecedented destruction from the regime's brutal war.
More than 2,100 Palestinians were killed in the recent Israeli onslaught on Gaza, which started on July 8 and ended 50 days later.
Major parts of infrastructure from roads to sewage treatment plants were also seriously damaged in the Israeli assaults. However, Gaza's reconstruction has yet to begin three months after the war.
The strip has been under Israel's crippling siege since 2007.