Palestine
Israel demolishes Palestinian village in Negev desert for 178th time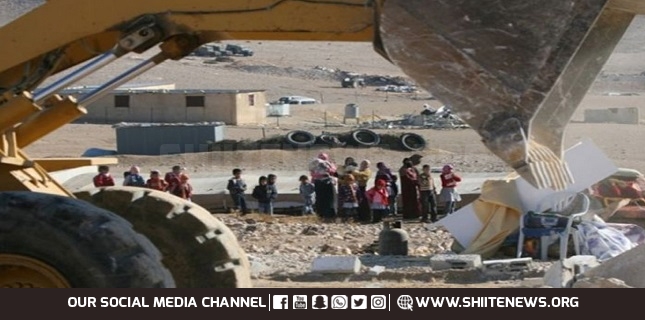 Israeli forces have raided and razed the Bedouin village of al-Araqib in the Negev region for the 178th time, displacing hundreds of desperate villagers as the Tel Aviv regime presses ahead with its expropriation of Palestinian lands for the expansion of Israeli settlements.
According to a report by the Palestinian Information Center, Israeli bulldozers, heavily guarded by police forces, on Thursday morning destroyed all tents and makeshift homes of the Bedouin al-Araqib village for the 178th time, making its inhabitants, including children and elderly people, homeless.
Israel's so-called Negev development authority refuses to recognize the ill-fated village, which is under constant threat of displacement and eviction.
Al-Araqib, populated by about 220 members of the al-Turi Arab Bedouin tribe, is only one of dozens of Bedouin villages in the Negev desert, which are "unrecognized" by the Israeli regime.
Since the beginning of the current year, Israeli forces had demolished the village, some eight kilometers north of Beersheba, six times, the last of which was on August 27.
Israeli authorities have been demolishing al-Araqib since 2000 in an attempt to push the villagers to frustration and despair and displace them from their lands. Villagers and activists are challenging Israel's repeated attempts to uproot the villagers from their native land.
"Israeli authorities are increasing the village inhabitants' suffering, and continue to demolish their tents and this time as several times before, they left them homeless," said local official Aziz al-Turi.
Israel razes agricultural structure in West Bank
Separately on Thursday, Israeli forces demolished an agricultural warehouse in Tarqumiyah town west of al-Khalil (Hebron) in the occupied West Bank, the Palestinian Information Center reported.
Local sources said that Israeli troops raided Khilat al-Zeitoun area of the town and knocked down the warehouse, which has been used for agricultural purposes.
The report further said that Israeli forces also blocked several secondary roads in Farsh al-Hawa area in western al-Khalil. It added that the forces further confiscated a number of cargo containers belonging to Palestinian citizens during their presence at the northern entrance to the city.
Over half a million Israeli settlers live in more than 230 settlements built since the 1967 occupation of the West Bank and East Jerusalem al-Quds. Built on the occupied land, the settlements are internationally condemned as illegal.
Palestinians want the West Bank as part of their future independent state with East Jerusalem al-Quds as its capital.