Palestine
Israel-UAE normalization pact 'treacherous stab in the back of Palestinian people: Hamas leader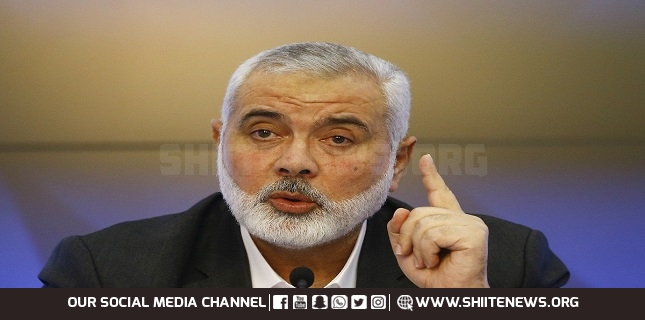 The head of the political bureau of the Palestinian Hamas resistance movement has censured the deal between the United Arab Emirates (UAE) and Israel to establish full normal diplomatic relations, describing the agreement as a "treacherous stab in the back of the Palestinian nation."
"The UAE-Israel deal went against the grain of tradition besides the Arab and Muslim consensus. It is a treacherous stab in the back of Palestinian people," Ismail Haniyeh said in an exclusive interview with Turkey's Arabic-language TRT Arabi television news network late on Thursday.
Haniyeh then called on the UAE authorities to reverse their decision, stressing that three illusions have pushed Arab leaders to seek normalization with the Tel Aviv regime.
"The first illusion is that they think Muslim nations are in a state of defeat, and view Israel as victorious. The fact, however, is that such nations have not been defeated and that the Palestinian people have not stopped their struggle since the occupation of Palestinian lands," Haniyeh noted.
The senior Palestinian official added that the second illusion is that some rulers believe their political legitimacy is achieved through foreign support rather than their own people's backing, and that US support can only be achieved through establishment of relations with the Israeli regime.
"The third illusion is that some believe that Israel seeks peace and coexistence with the peoples of the [Middle East] region, but it is in fact an occupying regime founded on brutality and violence," Haniyeh pointed out.
He also praised the positions of Muslim countries concerning rejection of normalization with Israel and commitment to the issue of occupied Jerusalem al-Quds, stressing the need for reconciliation among Palestinian factions and formation of an inclusive national strategy against the Tel Aviv regime.