Palestine
Hamas warns Zionist regime over attacking Al-Aqsa Mosque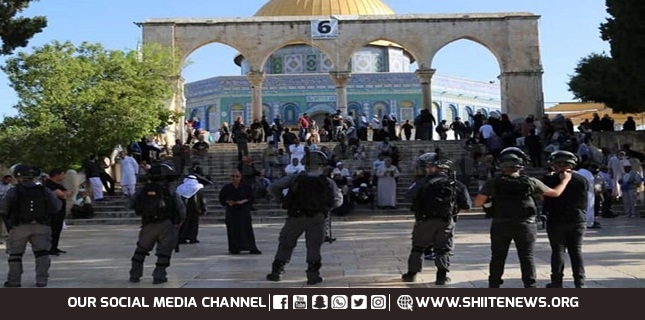 The Palestinian Islamic Resistance Movement (Hamas) warned the Zionist regime over attacking Al-Aqsa Mosque and considered the encroachment on this sacred place as a means of igniting a war.
Hamas movement issued a statement on Tuesday stating that the Zionist regime is paying the price for its encroachment on Al-Aqsa Mosque and will not be able to stand against the power of the Palestinian people.
Hamas condemned the Zionist regime's decision to close Bab al-Rahma with the aim of Judaizing and turning it into a synagogue, stressing that this dangerous Zionist conspiracy would not be carried out.
The Palestinian movement also called on the Organization of Islamic Cooperation and the Arab League to take action to stop the threat to the Al-Aqsa Mosque and to prevent the Zionist regime from fulfilling its demands.
The religious authorities of the occupied Quds also yesterday (Monday) opposed the decision of the Zionist regime court to close the "Bab al-Rahma" prayer hall in the Al-Aqsa Mosque.
Bab al-Rahma is located in the eastern part of Al-Aqsa Mosque, and the Quds Endowment Office reopened it in February 2019, after 10 years of forced closure by Tel Aviv.
Since the reopening of Bab al-Rahma, Israeli police have stepped up their crackdown on worshipers and guards and deported many.
The occupying regime in Jerusalem seeks to Judaize Jerusalem and end the Palestinian presence by destroying homes, arresting Palestinians, attacking the Al-Aqsa Mosque and increasing the number of settlers.