Palestine
Israel has three goals in its occupation: Haniyeh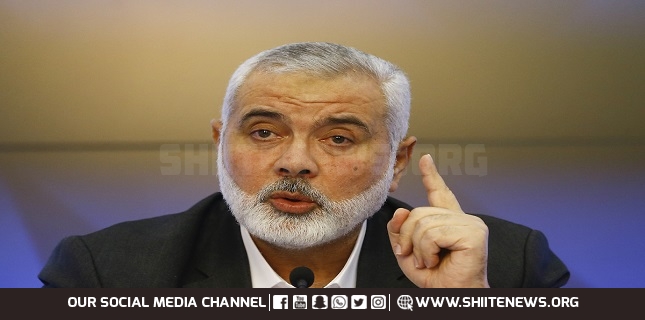 Head of the Political Bureau of Hamas, Ismail Haniyeh has said that the Zionist regime was pursuing three goals in implementing the occupation plan.
The head of the political bureau of the Palestinian Islamic Resistance Movement, Hamas, told Turkish NetTV on Tuesday evening that the Zionist regime had three goals in the occupation plan.
"The first goal is to emphasize the nature of the Zionist state. According to the 2018 law on nationalism, the Palestinian people must be expelled from their land," he said.
"The second goal is to annex 30 percent of the West Bank and implement the 'Greater Quds (Jerusalem)' project so that East and West Quds will be the unified capital of Israel," Ismail Haniyeh said of the second goal.
"The third goal is to prevent the creation of any Palestinian state or entity," Haniyeh added.
He explained: "These three goals mean removing the Palestinian issue from the agenda and displacing more people from their homeland."
Ismail Haniyeh further emphasized: "We will reject and oppose the annexation plan and we will work with our children, the Arab ummah and the Islamic ummah to defeat it."