Palestine
Israeli live fire, medical negligence kill 2 Palestinians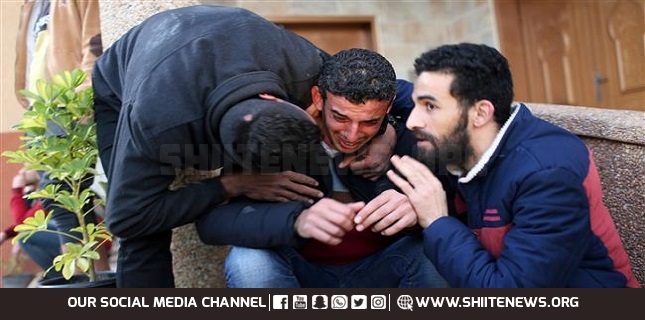 Two Palestinians have lost their lives in the occupied territories, one by Israeli live fire and the other by medical negligence at a prison run by the Tel Aviv regime.
Palestine's Wafa news agency reported on Wednesday that Israeli soldiers opened fire on a Palestinian car at a checkpoint near the southern West Bank city of Bethlehem, instantly killing the driver.
Israeli police claimed the Palestinian was gunned down after he rammed his car into the checkpoint before getting off and stabbing a soldier.
The victim "drove his vehicle into the border policeman … then stabbed (him) with scissors," claimed Israeli police spokesman Micky Rosenfeld. "Officers in the area responded to the attack."
He added that the Israeli policeman was moderately wounded in the incident and that an explosive device was found at the scene.
The Israeli military regularly opens fatal fire on Palestinians, accusing them of attempting to carry out stabbing attacks against its forces.
Human rights groups have repeatedly criticized the Tel Aviv regime for its shoot-to-kill policy as a large number of the Palestinians killed at the scene of the alleged attacks did not pose serious threats to Israelis.
Additionally on Wednesday, a Palestinian inmate, who was serving an eight-year sentence for resisting the occupation, lost his life due to medical negligence.
The Palestinian Prisoner Society (PPS) said in a statement that Nour Jaber Barghouti, 23, from the West Bank village of Aboud, had fallen unconscious in the bathroom of the Naqab prison south of the occupied lands.
It took the prison administration more than half an hour to provide Barghouti with medical assistance only after prisoners started shouting for help, the PPS said, adding, however, that the Palestinian inmate was later pronounced dead.
It further held the Israel Prisons Service responsible for the death of Barghouti, who had been in jail for four years.
Recently, concerns have been growing over the fate of Palestinians in Israeli custody amid the novel coronavirus (COVID-19) outbreak.
On Monday, eighteen press institutions appealed to United Nations High Commissioner for Human Rights Michelle Bachelet to pressure the Tel Aviv regime to release Palestinian journalists being held in Israeli prisons amid the coronavirus outbreak.
-Israeli live fire