Palestine
Zionist Occupation Troops Storm Aqsa Mosque, Clash with Palestinian Worshippers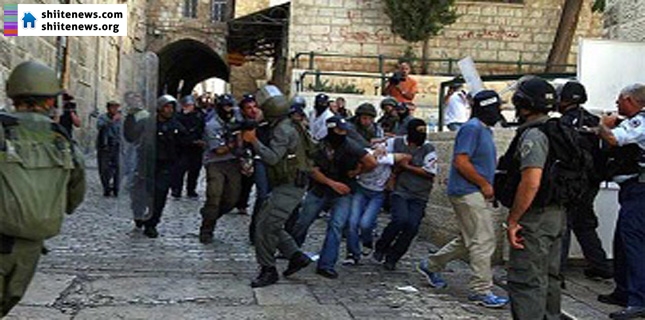 Clashes have broken out between Israeli occupation forces and Palestinians after the Zionists raided the al-Aqsa Mosque in East al-Quds (Jerusalem), occupied West Bank.
The clashes, which erupted early on Wednesday, left dozens of the Palestinian worshipers injured.
The clashes initially erupted between the Palestinians and Israeli troops in the Temple Mount, which is known to Muslims as the Noble Sanctuary. The conflict began after the place opened for morning prayers.
Israeli forces chased some of the worshipers into the al-Aqsa Mosque compound and stormed the holy site where clashes turned ugly.
According to the al-Aqsa Mosque director, Sheikh Omar al-Kiswani, the Israeli soldiers fired tear gas, stun grenades, and rubber bullets during the clashes.
Kiswani added, the raid took place at 7:30 a.m. local time ahead of expected visits by extremist Israelis to the third-holiest site in the Muslim world after Mecca and Medina in Saudi Arabia.
"The compound is almost empty of Muslim worshippers, while Israeli forces allowed herds of extremists to storm it and move freely," Kiswani said.
Almost on a daily basis, Israeli troops force their way into the ranks of Palestinian worshippers, triggering scuffles.
Palestinians are extremely angry at these raids, considering them as the desecration of the Islamic holy site.
Tensions have escalated since 'Israel' decided earlier this week to expand the entrance into the Noble Sanctuary under a tourist attraction plan.
Palestinians say the plan is a unilateral change in the status of the sensitive holy site. Israeli authorities are systematically acting to change the identity of several Palestinian cities.
A report published by the al-Aqsa Foundation in October 2013 said Israel is planning to build a synagogue at the al-Aqsa Mosque compound as part of its efforts to further Judaize the occupied Palestinian territories.