Palestine
Hamas slams US for refusing to acknowledge Palestinian residents in East al-Quds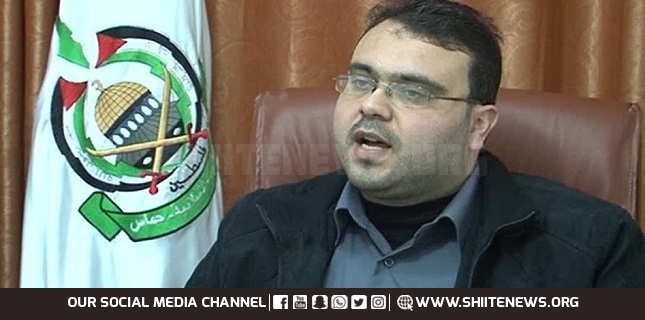 The Palestinian Islamic resistance movement of Hamas has lambasted the US State Department's annual human rights report for referring to Palestinians living in the occupied East Jerusalem al-Quds as "Arab" and "non-Israeli residents," describing the labeling as yet "another crime committed by the US against Palestinian people."
"Such a hostile attitude by the US State Department is part of the major crime called the deal of the century, which represents the vision and interests of the extremist Zionist right wing," Hamas spokesman Hazem Qasem stated in a press release on Thursday.
Qasem further noted that all Israeli-US bids to change the identity of Jerusalem al-Quds city and its demographic population, and chip away at local residents' respect for holy sites there are doomed to failure.
"No force on earth can change the historical facts and realities. Despite such a joint Zionist-American act of aggression, our people will continue their struggle until their rights are restored," the Hamas spokesman pointed out.
Separately, Palestinian Foreign Minister Riyad Maliki strongly criticized the US labeling of Palestinians in occupied Jerusalem al-Quds as "Arab residents," stating that Washington has adopted terminology used by the extremist right-wing government in Israel.
Maliki said on Thursday that adoption of such a term "disregards all international and United Nations reports issued by independent investigation and fact-finding committees – namely the findings of the Prosecutor of the International Criminal Court, Fatou Bensouda, that Israel plus its occupation army and officials violate international law, commit war crimes, and target and kill Palestinian civilians deliberately."
The top Palestinian diplomat then strongly rejected the US labeling, stressing that "Palestinian people are the owners of this land for tens of thousands of years, and that they are rooted in it and continue to remain in their land in historical Palestine, and therefore any attempt to label them as residents when they are the indigenous people of Palestine and Jerusalem is unacceptable."
"The Israeli Occupation has no right to claim sovereignty over the land it occupies, and that it cannot change the legal status of occupied Palestinian lands, including al-Quds (Jerusalem), even with the US encouragement. Therefore, the US report and the so-called deal of the century should be placed in the dustbin of history," Maliki said.
The change in US terminology comes amid increased tensions over US President Donald Trump's announcement of the so-called deal of the century on the decades-old Israeli-Palestinian conflict on January 28. The proposal was negotiated with Israel but without the Palestinians.
Palestinian leaders, who severed all ties with Washington in late 2017 after Trump controversially recognized Jerusalem al-Quds as the capital of the Israeli regime, immediately rejected the plan, with President Abbas saying it "belongs to the dustbin of history."
Thousands of Palestinians in the occupied West Bank and besieged Gaza Strip poured onto the street in immediate condemnation of the plan.
Palestinian President Mahmoud Abbas has said "a thousand no's" to the plan.
He said the Palestinians remain committed to ending the Israeli occupation and establishing a state with its capital in east Jerusalem.
"We will not kneel and we will not surrender," Abbas said, adding that the Palestinians would resist the plan through "peaceful, popular means".