Palestine
Israeli military forces killed Palestinian teen boy in West Bank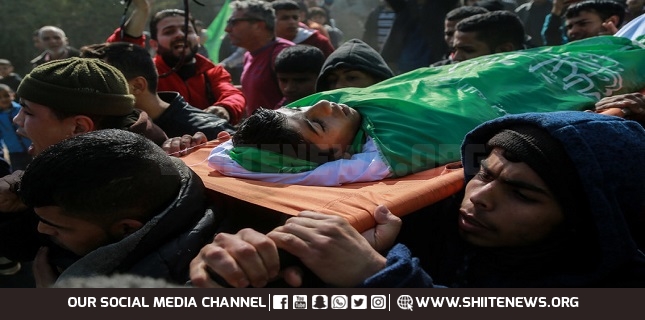 Israeli military forces have shot and killed a Palestinian teenage boy as tensions continue in the occupied Palestinian territories as part of the aftermath of US President Donald Trump's announcement of his so-called deal of the century on the decades-old Israeli-Palestinian conflict.
Palestinian sources, requesting not to be named, said clashes broke out on Wednesday between a group of Palestinian protesters and Israeli troops at Mount al-'Arma on the outskirts of Beita town, located 13 kilometers (8.1 miles) southeast of Nablus.
Israeli soldiers fired live rounds, rubber-coated steel bullets as well as tear gas canisters in order to disperse the crowd.
Palestinian Health Ministry spokesman Dr. Tarif Ashur announced in a statement that 15-year-old Mohammad Abdul-Karim Hamayelhad had been shot in the head and taken to Nablus' Rafidia Surgical Hospital in critical condition.
The statement added that Hamayel succumbed to his injury upon arriving at the hospital.
Ashur noted that 17 Palestinians, including head of the Anti-Wall and Settlement Committee Walid Assaf, were treated for gunshot wounds.
Residents of Beita have continued their daily sit-ins atop Mount al-'Arma since February 28, when extremist settlers made their first attempt to seize it and turn it into an Israeli territory.
More than 600,000 Israelis live in over 230 settlements built since the 1967 Israeli occupation of the Palestinian territories of the West Bank and East Jerusalem al-Quds.
Emboldened by Trump, Israel has stepped up its settlement construction activities in defiance of United Nations Security Council Resolution 2334, which pronounced settlements in the West Bank and East Jerusalem al-Quds "a flagrant violation under international law."
On January 28, the US president unveiled his so-called deal of the century, negotiated with Israel but without the Palestinians.
Palestinian leaders, who severed all ties with Washington in late 2017 after Trump controversially recognized Jerusalem al-Quds as the capital of the Israeli regime, immediately rejected the plan, with President Abbas saying it "belongs to the dustbin of history."
Thousands of Palestinians in the occupied West Bank and besieged Gaza Strip poured onto the street in immediate condemnation of the plan.
Palestinian President Mahmoud Abbas has said "a thousand no's" to the plan.
He said the Palestinians remain committed to ending the Israeli occupation and establishing a state with its capital in east Jerusalem.
"We will not kneel and we will not surrender," Abbas said, adding that the Palestinians would resist the plan through "peaceful, popular means".
-killed Palestinian boy