Palestine
11 injured, Israeli troops attack al-Aqsa worshipers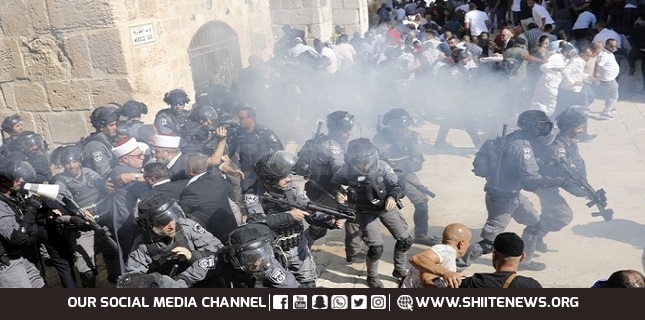 The Israeli regime's forces stormed the holy Al-Aqsa Mosque compound on Friday, injuring 11 Palestinian worshipers and arresting three more.
Thousands of Palestinians attended the al-Aqsa Mosque on Friday to perform morning prayer and were attacked by the Israeli military.
The troops shot at worshippers with rubber bullets as they were exiting the mosque, chanting "we sacrifice our blood and lives for you Quds".
Since Tuesday and in the wake of unveiling the so-called US plot, 'Deal of the Century', the Israeli-occupied Palestinian territories have been abuzz with huge protests and demonstrations with pitched battles and fierce clashes between the Israeli troops and Palestinians.
US President Donald Trump along with the Israeli regime's Prime Minister Benjamin Netanyahu attended the White House on Tuesday and announced the so-called 'Deal of the Century' peace plan.
He declared that the city of al-Quds would remain the monolithic capital of the Zionist regime.
Recognizing the city of al-Quds as the Israeli capital, the annexation of 30 percent of the occupied West Bank to Israel, ignoring the Palestinian right of return and complete disarmament of Palestinian resistance groups are included in the Trump administration's so-called "Middle East peace plan".
The Israeli regime will also retain security control over the entire land of occupied Palestine. Trump's so-called 'Deal of the Century' also completely ignores the fundamental idea that Palestinians have the inalienable right to self-determination.
The plan goes against the provisions of UN Security Council Resolution No. 194.