Palestine
Relatives of Gaza martyrs keep Resistance dream alive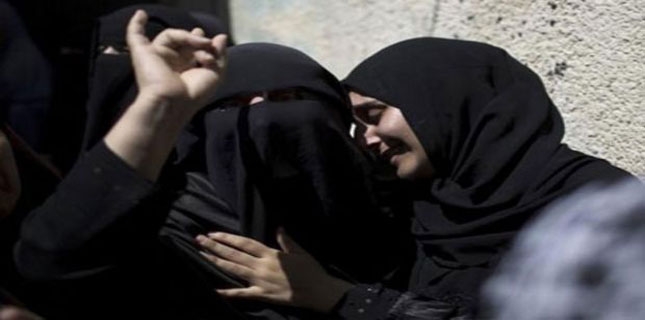 People visiting the homes of Palestinian martyrs in Gaza, especially homes of Resistance leaders who were assassinated by the Zionist state, will discover that despite the great sorrow [of having lost their loved ones], families insist on staying true to the Resistance's dream and avenging their deaths. Al-Akhbarvisited the family home of Wadad Asfour, the late wife of al-Qassam military commander Mohammed al-Daif, and the home of late commander Raed al-Attar.
Gaza – Questions over whether the recent truce will last or if the war on Gaza will resume did not last long. A new round of hostilities soon started, this time taking the shape of targeted assassinations.
It is the same strategy that Israel has been using ever since the beginning of the Palestinian struggle, which aims to punish the Resistance and the people who support its goals.
"She considered her death a sacrifice for the sake of her country and her people."
For example, the Zionist state launched five missiles at the home of al-Dalou family, killing five people and injuring 40 others, all in order to make sure not that it did not miss a target it had sought to kill in the Sheikh Radwan neighborhood [of Gaza City].
The day after the brutal strike, rescue workers were able to retrieve the body of a little girl, the daughter of al-Qassam Brigades Chief Commander Mohammed al-Daif, who had joined her mother and brother in the afterlife.
Al-Daif's wife, Wadad Asfour, was killed along with her two children, Ali and Sarah while her daughter Halima was seriously injured, and her sons Omar and Khaled escaped unharmed, sources close to the family said to Al-Akhbar.
Wadad was first married to martyr Bilal Kassa'a, the commander of al-Qassam Brigades in northern Gaza, and had children with him. After Kassa'a was assassinated by Israel, she married Commander al-Daif in 2010.
Due to al-Daif's [high ranking] position, Wadad had to remain constantly out of sight. She was forced to quit her job as a researcher at a local charity due to concerns that collaborators working for Israel were monitoring her movement in order to assassinate her husband. About a year ago, she rented a house and lived there until it was struck by the occupation forces a few days ago.
Hajja Omm Mustafa Asfour, Wadad's mother, received the news of her daughter's martyrdom with ululations. She considered her death a sacrifice for the sake of her country and her people.
Speaking to Al-Akhbar, Omm Mustafa said she was very proud of her daughter's martyrdom and that she is ready to give Commander al-Daif all her other daughters in marriage, one by one, "so that I would share with him the rewards of the Resistance [in heaven]."
"I knew that we would share with him this reward ever since he proposed to my daughter, and I will never regret approving it. I was the first to encourage this marriage," she said, adding that her daughter Wadad did not hesitate to marry al-Daif because she felt it was a great honor for her and for her family.
Omm Mustafa added that while her daughter was alive she missed her because they barely saw each other often for security reasons. The last time she saw her was during a brief visit a few days before her daughter's killing.
The funeral procession took place at al-Khalfa'a Mosque in northern Gaza and was heavily attended by thousands who carried Wadad's coffin and the coffin of her son Ali. Al-Daif's daughter, Sarah, was buried the next day after her body was retrieved from the rubble.
It should be noted that al-Daif is married to two women, and according to security sources close to Hamas, a number of collaborators were recently arrested for monitoring the relatives of his two wives.
This state of grief mixed with pride and honor, which was displayed by the family of al-Daif's wife, was also evident in the houses of other martyrs killed by Israel in Tel al-Sultan in the Rafah area of southern Gaza. Three members of al-Qassam Brigades' military council were killed in a single attack. They were: Commanders Raed al-Attar, Mohammed Abu Shamaleh and Mohammed Barhoum.
""I knew that we would share with him this reward ever since he proposed to my daughter, and I will never regret approving it." – Omm Mustafa, mother of Wadad Asfour"
Time has left its marks on the face of al-Attar's mother. She said that she expected to hear about her son's martyrdom at any moment since he was constantly being hunted by Israel for 20 years.
Speaking to Al-Akhbar, she mentioned many tribulations that her son had encountered and the numerous threats to his life. Before his assassination, al-Attar had already survived four assassination attempts by the Israeli military.
The bereaved mother said her son told her a few days before the recent Israeli attack on the besieged Gaza Strip, which began last month, that this might be his last battle. However, she said that he promised her that he will not allow the occupation forces to be content or secure and that he will attempt to kidnap Israeli soldiers. She added that her son was looking forward to doing so in any ground invasion launched by the Israeli military.
For her part, Attar's wife reminisced on how she had never seen the late commander happier than the day when Israeli soldier Gilad Shalit was kidnapped on June 2006. The soldiers release five years later in 2011 allowed for the prisoners' exchange agreement to be made — one that Israel broke recently by re-kidnapping hundreds of Palestinians, including those who were released by that agreement. Attar supervised the handing over process along with Commander Ahmed al-Jaabari, as shown in a video broadcasted by al-Qassam Brigades recently.
Attar's wife also said that her husband had made a plan "to surprise the enemy if it dared to hinder the prisoners' exchange or tried to kill or kidnap Shalit before he was handed over."
Like the wives of other martyrs, Attar's wife was expecting that her husband would die at any time. She told Al-Akhbar that his martyrdom was more probable than seeing him arriving safely to her.
It was difficult to speak to Attar's family members as tens of thousands of mourners poured in to offer them their condolences.
A large crowd participated in the funeral procession for the three Hamas commanders and later many joined protests calling on the Resistance to punish what they deemed were "traitors".
The protesters were adamant about warning others on how collaborators were helping the Israeli occupation by spying on the friends and relatives of the Resistance leaders, in order to assassinated individuals wanted by Israel and thereby causing great tragedy for the Palestinian people.
By: Hani Ibrahim
Source: Al-Akhbar