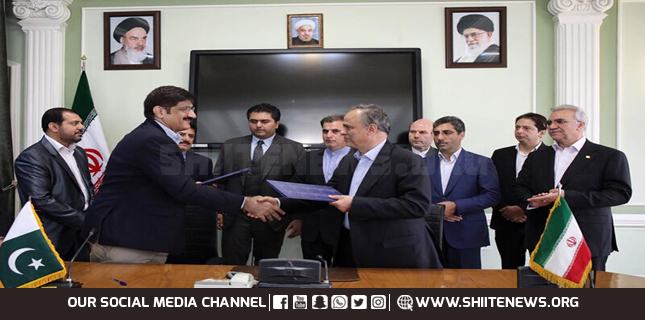 Sindh Chief Minister Syed Murad Ali Shah and Governor General of Khorasan Razavi Alireaz Razm Hosseini have signed a MoU.
Most importantly, the MoU deals with development of tourism, agricultural and industrial cooperation, exchange of goods and trade, and cooperation in holding foreign exhibitions.
Furthermore, Murad Shah told Iranian officials that Pakistan is seeking to expand its relations with Iran.
Notably, he shared with them in a lighter vein that he intended to visit Mashad for the pilgrimage of Imam Reza (AS) shrine.
However, he said, this pilgrimage becomes an opportunity for expansion of economic and cultural relations.
Further, Sindh Chief Minister expressed hope for expansion of bilateral cultural, political and economic relations. Since pilgrims travels to Mashad from Pakistan largely, development of bilateral relations between Sindh and Khorasan Razavi province becomes important.
Moreover, he pointed to good neighborly relations between the two countries.
Also, he hoped that the obstacles to building Peace Pipeline between the two countries would be overcome. Murad Shah said Iran's gas would finally reach Pakistan through this pipeline".
Meanwhile, Khorasan Razavi Governor General Alireaz Razm Hosseini noted Iran and Pakistan's good political and cultural relations throughout history.
Notably he hoped perpetuation of this friendship and good neighborliness, despite the reluctance of some countries.
He also cited the visit of the Pakistani Prime Minister Imran Khan to Mashad two months ago.
sindh chief minister iran