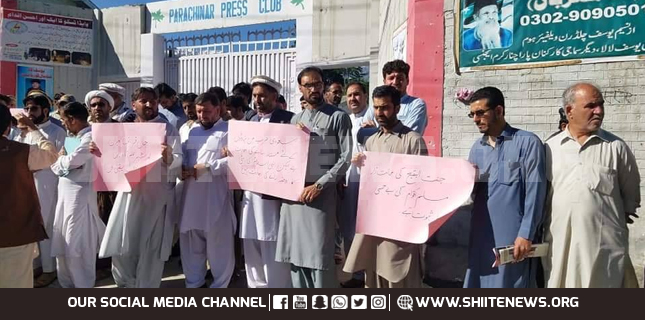 Social and political notables of Parachinar staged a demonstration against demolition of Jannatul Baqi graveyard on its anniversary.
They gathered outside Parachinar Press Club to mark the anniversary of nonagenarian tragic issue of demolition of Jannatul Baqi.
MWM leader Agha Muzammil Hussain, SUC leader Allama Baqir Haideri, TNFJ leader Ghazanfar Ali Shah, Shabbir Turi, Tehreek-e-Hussaini leader Haji Abid Hussain, ISO leader Rizwan Ali and Anjuman-e-Hussainia leader spoke.
Moreover, they condemned Saudi monarchy for razing Islamic heritage, the sacred shrines and graves of great Islamic saints.
Furthermore, they demanded reconstructions of those demolished shrines and graves as per traditions of Islamic countries such as Pakistan.
Meanwhile, they also demanded rehabilitation of sacred Islamic shrines and graveyards in Jannatul Baqi Madinah (Medina) and Makkah.
Parachinar protest Jannatul Baqi demolition