Pakistan
Biased CTD cops detained Shia woman and her three children for 10 days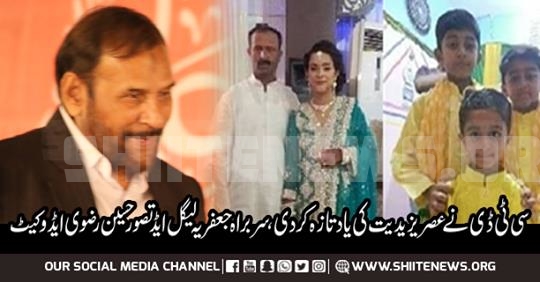 Head of Jafaria Legal Aid Syed Tasawwur Rizvi has demanded stern action against those biased and brutal male CTD personnel who assailed the house of Syed Mehtab Hussain Naqvi in Allah Bux Goth near Ahsanabad from where they kidnapped the entire Shia family comprising of five persons, including wife and three children.
Tasawwur demanded that prime minister Imran Khan and all other concerned higher authorities to ensure that the CTD team must be held accountable for that heinous inhuman crime.
He said that Azeem Fatima and three children aged 4, 6 and 9 years were also dragged by CTD Civil Lines cops when they took Mehtab Hussain into undeclared custody on March 27, 2019.
Since then, CTD Civil Lines had put the whole family behind the bars until April 5, 2019. He said it seems Umayyad tyrant Yazid rule was imposed to target innocent Shia Muslims. He condemned the illegal detention and torture on the family.