Pakistan
Prime Minister Imran Khan visits Imam Reza Holy Shrine in Mashhad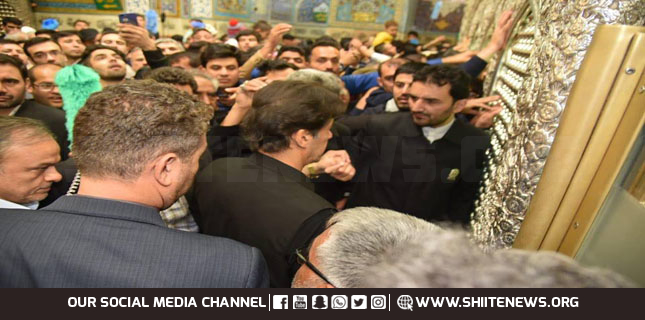 Pakistan's Prime Minister Imran Khan visited the holy shrine of infallible Imam Reza (AS) in the sacred city of Mashhad during his first trip to brotherly and friendly Islamic neighbouring country Iran.
Razavi Khorasan governor who welcomed him on his arrival together with some local officials also accompanied Imran Khan.
Prime Minister Khan-led Pakistan government's top delegation also comprised of ministers, advisers and other concerned officials.
They offered prayers at the holy shrine of Imam Reza (AS) and also prayed at the sacred zareeh on the grave of infallible Imam Reza (AS). Ali Zaidi and Zulfi Bukhari were seen next to Prime Minister Imran Khan as they all paid respect to the great Islamic saint and leader at his holy shrine.
After saying prayers, Pak Prime Minister held meeting with custodian of the Holy Shrine. Imran Khan then left Mashad for Tehran to continue consultations with Iranian officials.