Pakistan
MWM warns of protest campaign if Sibte Asghar not released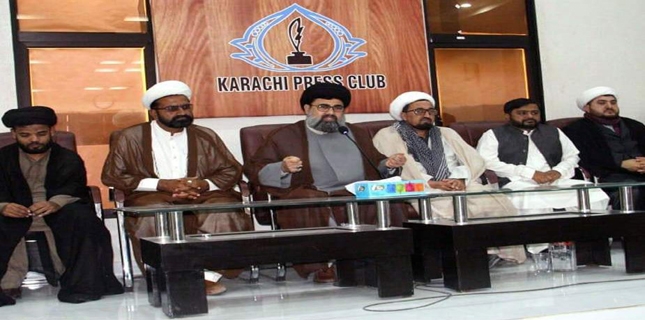 Majlis-e-Wahdat-e-Muslimeen (MWM) Pakistan has warned that a protest campaign will be kicked-off soon if Syed Sibte Asghar is not released forthwith.
"Sibte Asghar is a social worker, member of Commissioner Peace Committee and a leader of MWM Karachi. His arrest without any case transcends our comprehension," said Allama Syed Ahmed Iqbal Rizvi, deputy secretary general of MWM Pakistan addressing a press conference at Karachi Press Club.
Allama Sadiq Jafari, Allama Syed Ali Anwar Jafari, Allama Mubashir Hassan Allama Nishan Haider, Allama Ehsan Danish, Nasir Hussaini, Mir Taqi Zafar and other leaders of MWM were also present.
Allama Ahmed Iqbal condemned the uncalled for arrest of peaceful and law-abiding social worker and peace committee member Sibte Asghar. He said that Sibte Asghar has been focal person of peace committee of Karachi commissioner for district West. In spite of his clear record, he was taken into undeclared custody from his house in Orangi Town in the early hours on March 01, 2019.
He said his family, friends and party comrades were saddened to know he was taken into illegal custody. Sibte Asghar is a symbol of unity among Muslims and all residents of his area, he said.
He said that in view of war-like situation on the borders with India and cross border attacks from Afghanistan, government and security agencies should be focused on enemies and threat from enemies, instead of witch-hunt against patriot Pakistanis who are offering themselves to defend Pakistan.
"I advise those arrested innocent people such as Sibte Asghar that go and read article 10 of the Constitution and then act upon what Constitution of Pakistan requires them. Produce the detainee within 24 hours after his arrest and allow him the legal defence through lawyer of his choice in the court of law," MWM leader emphasised.
He said that Shia Muslim community of Pakistan is known as peaceful and patriot community across Pakistan therefore victimization of Shia Muslims must end and all those subjected to enforced disappearance must be released forthwith. Otherwise, he said, MWM would have to begin countrywide protest movement to seek release of those innocents who are subjected o undeclared and illegal detention.