Pakistan
Pakistani nation turns down US dictation to Pakistan against Indian incursion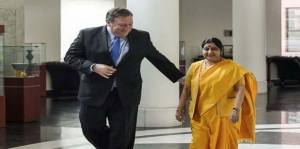 The United States administration has taken an unjust and pro-India stance on ongoing tension between India and Pakistan which Pakistani nation rejected on the ground that Trump administration failed to rein in warmongering India.
Great Pakistani are shocked to see US Secretary of State Michael Pompeo statement which begins: "Following Indian counter-terrorism actions on February 26, I spoke with Indian Minister of External Affairs Swaraj to emphasize our close security partnership and shared goal of maintaining peace and security in the region."
In this statement, he failed to condemn violation of Pakistan's airspace by Indian military fighter jets and rather he called them counterterrorism actions that means US supports Indian attack on Pakistani soil.
Then, his statement said: "I also spoke to Pakistani Foreign Minister Qureshi to underscore the priority of de-escalating current tensions by avoiding military action, and the urgency of Pakistan taking meaningful action against terrorist groups operating on its soil."
Whether Pakistan was provided with the actionable intelligence proofs of those terrorists? And if not, why US administration is dictating Pakistan what to do. Pakistan government knows its obligations
Pakistani nation feels hurt that US administration backed Indian warmongering and instead of condemning Indian violation of Pakistan's sovereignty, Pompeo sided India.