Pakistan
Fifth anniversary of Allama Taqi Hadi's martyrdom being observed today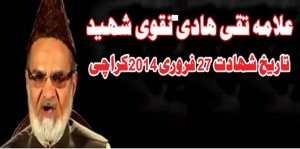 His family and Shia Muslims are observing the fifth anniversary of martyrdom of renowned religious scholar and educationist Allama Syed Taqi Hadi Naqvi today.
He embraced martyrdom in a terrorist attack in Nazimabad while he was travelling in a rickshaw. Four terrorists opened fire at him in the rickshaw near board office (BSE) intersection in Nazimabad area of Karachi.
Allama Taqi Hadi Naqvi sustained critical wounds and embraced martyrdom while being shifted to the nearby Abbasi Shaheed Hospital.
Hadi was born in Moradabad area in Indian state of Sirsi and migrated to Pakistan along with his family after the creation of Pakistan. His father, Hakim Maulana Syed Mohammad Hadi, was also religious scholar.
Recently Allama Taqi Hadi Naqvi was associated with the Jafaria Disaster Cell (JDC)'s educational board. He was renowned within the academic circles.