Pakistan
Another Shia Muslim subjected to enforced disappearance in Pakistan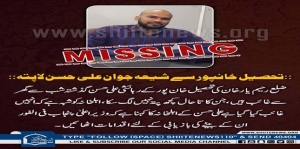 A Shia family of Punjab province has complained of enforced disappearance of their kin in Khanpur, district Rahim Yar Khan amid protest campaign being run against such illegal detention across Pakistan.
Ali Hassan, a resident of Khanpur (Rahim Yar Khan) had gone missing and the family believed he could have been subjected to enforced disappearance.
They demanded that Ali Hassan be released forthwith or be produced in the court of law for trial if there is any case against him.
The constitution of Pakistan and international law don't allow undeclared arrest and detention denying the accused right to defend him in the court of law.