Pakistan
Agha Ali Rizvi demands exclusion of Shaikh Hassan Johari from fourth schedule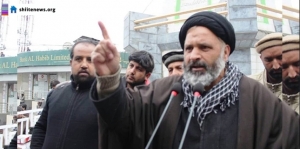 Majlis-e-Wahdat-e-Muslimeen Gilgit Baltistan secretary general Allama Agha Syed Ali Rizvi has demanded that names of Shaikh Hassan Johari and Shehzad Agha must be excluded from the fourth schedule.
"Placing them under fourth schedule is aimed at gagging the voice of those demanding legitimate and inalienable rights for people of Gilgit-Baltistan," he said in a statement.
Agha Rizvi said that the worst sort of dictatorship was imposed in that region and people don't trace democracy anywhere around them.
He urged the Pakistan government to take notice of misuse of fourth schedule by the PML-N GB government for political gains. He warned that if the Centre failed to take notice of the victimization of political opponents in Gilgit-Baltistan, people of GB would have to protest against PTI-led federal government as well.