Pakistan
Pakistan Shia leaders condemn killing of Ali Mustafa Al-Hussaini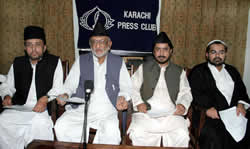 Pakistani Shia leaders and religious Parties have condemned the martyrdom of Allama kamal Hussain al-Hussaini's Son Ali Mustafa Hussaini .who was martyred by the Taliban Terrorists on Monday.
Jaffaria Alliance Pakistan's leader  Allama abbas Kumaili,Moulana Hussain Masoodi,Majlis wahdat muslimeen Pakistan's leader Allama Hassan zafar naqvi,
Shia ulma council Pakistan's leader Moulana Shehnshah Naqvi, Imamia Students Organization Pakistan Central President Adil Bangash,Imamia Organaization Pakistan's Nazim Arshad Naqvi,Asgharia Organization's leader Lutf Ali,Asgharia Students Organization Pakistan's Leader Ali abbas & Other leaders and Ulema's condemned the  martyrdom of Allama Kamal Hussain Hussaini's Son Ali Mustafa.
 
They demanded of the government to clear initiate the army operation against the Taliban terrorists and provide the security to the one million shia population of the Kurram agency.