Pakistan
Imam Ali martyrdom anniversary being observed today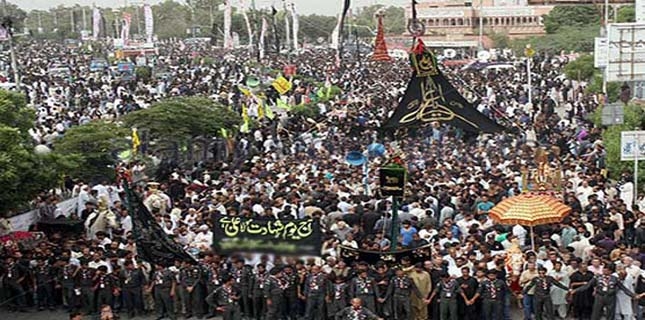 The martyrdom anniversary of the commander of faithful and leader of pious Imam Ali is being observed across the world today on 21st Ramazan. In addition to Shia Muslims, entire nation is observing Youm-e-Ali in Pakistan with due solemnity and sanctity (today on Wednesday).
The mourning congregations or majalis-e-Ali (AS) remained continued since 19th Ramadan in all Imambargahs and principle mosques while mourning processions are also being taken out from all over Pakistan including Karachi, Hyderabad City, Latifabad, Qasimabad and Hyderabad Rural areas, Sukkur, Larkana, Nawabshah, Thatta,Badin, Lahore, Islamabad, Quetta, Peshawar, Gilgit, Skardu, Parachinar and in almost all major towns across the country.
In Karachi, Zohr/Asr prayers were held at main MA Jinnah Road near Masjid Imam Ali Reza (AS). Main mourning procession was brought out from Nishtar Park that was marching from Numaish to Hussainian Iranian via Saddar, Regal, Tiber Centre and MA Jinnah Road.
In Hyderabad, main mourning procession was brought out from Karbala Dadan Shah after Zuhar prayers which after marching its traditional routes of Foujdari Raod, Saddar, Bohri Bazar, Risala Road, Lajpat Road and Risala Road will culminate at Qadam Gah Maula Ali where Iftari will be offered to mourners.
The mourners are paying homage to Maula Ali, the Amir al Maumineen.