Pakistan
Death anniversary of Bibi Khadija Kubra observed in Pakistan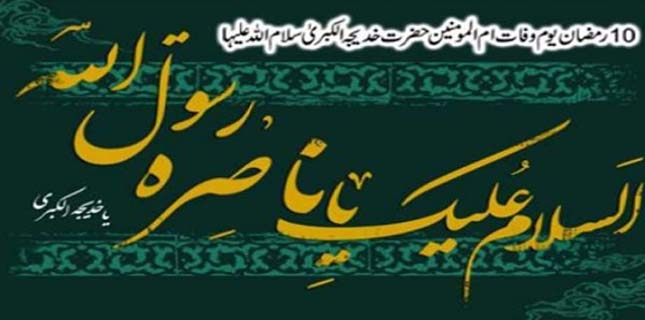 Shia Muslims mourned the death anniversary of Hazrat Bibi Khadijatul Khubra, the mother of faithful, the most beloved wife of Hazrat Mohammad (PBUH), last apostle of God and Prophet of Islam on 10th Ramazan in all over Pakistan.
Mourning congregations were held where speakers highlighted the salient features of the sacred life of Bibi Khadija (AS). Clad in black, Shiites also beat their chest and recited nohas and marsias to mark the anniversary.
Shia Ulema Council chief Allama Syed Sajid Ali Naqvi, in his message on the death anniversary of Bibi Khadija (AS), said that she was the wealthiest woman of then-Arabian peninsula and her wealth and social status was helpful for Islam and Muslims. He said that she facilitated preaching of Islam and making Muslims stronger.
Allama Sajid said that Hazrat Abu Talib and Bibi Khadija are two key figures who played cardinal role to make Islam a stronger religion and their support to Hazrat Mohammad (PBUH) cannot be matched with any other figure.