Pakistan
MuzaffarGarh: Wahabi terrorists dishonour two Alam-e-Molaa Abbas (as) & attack Shia Muslim Houses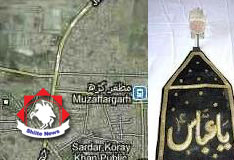 The Wahabi-Nasabi terrorists on Friday dishonoured the Alam-e-Mubarrak of Molaa Abul fazal Abbas (as) at Gujrat village of District Muzaffargarh, Southern Punjab.
According to the Shiite News Correspondent, The terrorists affiliated with the banned outfit of Sipah-e-Sahaba (SSP) was attacked the peaceful Shia locality of Dari village of Gujrat District Muzaffargarh.
The terrorists have attacked the Shia Houses and also dishonoured the two Alam-e-Molaa Abul Fazal Abbas (as) and severely destroyed the Alam-e-Mubarrak.
The Shia Community of the area were staged protest against the disrespect of the Alam-e-Molaa Abbas (as) and demanded of the arrest of the culprits involved in the attack.
However, the residents of the area claimed that the attack of Wahabi terrorists were also the result of personal enmity.