Pakistan
Countrywide protest on Friday against Mastung killing, Shia Ulema's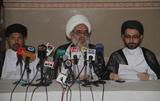 The Senior Shia Clerics and religious scholars have announced to hold the countrywide protest demonstration on Friday to condemn the barbaric incident of the killing of 29 pilgrims in Mastung Balochistan.
 Addressing the press conference held at Imam Bargah Ali Reza, President of Heyat-e-Aema Masjid-O-Ulema-e-Imamia Pakistan and Leader of Majlis-e-Wehdat Muslameen (MWM) Maulana Hassan Salahuddin said that the Shia Ulema's and religious scholars will stage protest outside the Karachi press club on Friday at 4 pm to condemn the failure of the Balochistan government to prevent the life of Shia Muslims in Balochistan.
 Maulana Baqar Zaidi, Maualan Aqeel Moosa, Maulana Shahan Shah Hussain Naqvi (Shia Ulema Council) , Maulana Munawar Naqvi (Majlis-e-Wehdat Muslameen), Maulana Naeemul Hassan and others were present on the occasion.
 The Senior Shia Cleric Maulana Hassan Salahuddin said that the Balochistan government has not yet arrested a single culprit involved in the killing of 26 pilgrims in Mastung despite the two days passed.
 He demanded of the government to immediately sack the Chief Minister Balochistan and Government of Balochistan over their failure to prevent the life of common people and alleged that the Chief Minister Balochistan having the close ties with outlawed Taliban and Lashkar-e-Jhangvi terrorists.
 He appealed to the Pakistan nation to observe the day of mourning on Friday 23rd September and to stage the countrywide demonstration across the country to condemn the ruthless killing of pilgrims.