Pakistan
Allama Arif Hussaini was the gift of Allah for Pakistani Nation, Allama Amin Shaheedi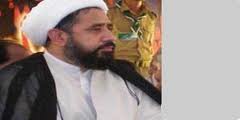 Majlis-e-wahdat Muslameen Pakistan Deaputy General Secratry Allama Amin shaheedi said that the lives of martyrs has always been a symbol of the alive nations.
According to the Shiite News Correspondent,He expressed these views in a meeting of Majlis-e-Wahdat Muslameen (MWM) office bearers at MWM Central office to review the arrangements of  Central Convention to be hled on 24th July in Islamabad on the occasion of the martyrdom anniversary of Allama Arif Hussain Al-Hussaini.
Allama Amin Shaheedi said that Shaheed Allama Arif Hussain al-Hussaini was a great leader and gift of Allah for Pakistani nation.
It may be noted here that Majlis-e-wahdat Muslameen Pakistan (MWM) and Imamia Students Organization (ISO) will jointly hold a grand program and rally on the occasion of martyrdom anniversary of Shaheed Allama Syed Arif Hussain Al-Hussaini.
Allama Shaheedi said taht Pakistani nation is facing the many challenges like terrorism and foreign Interference and the MWM's "Istaqlal-e-Pakistan" Convention and Rally will play an important role to bring out the country from menace of terrorism and US interference.
He added that the Convention will also address and condemn the tterrorism accross the country specially target killing of Shia people accross the Pakistan,including karachi,Dera Ismail Khan,Quetta,Kurram Agency and the illegal siege of Kurram agency Parachinar by the terrorists of Taliban.
"Scores of Islamic scholars, Ulema and Politicians will attend the "Istaqlal-e-Pakistan Convention" on 24th of july 2011 at Islamabad and Thousands of followers of Shaheed Quaid Allama Arif Hussain al-Hussaini will also attend the Convention", Shaheedi added.