Pakistan
Lahore: Shia Organizations takes out rally to support Bahraini people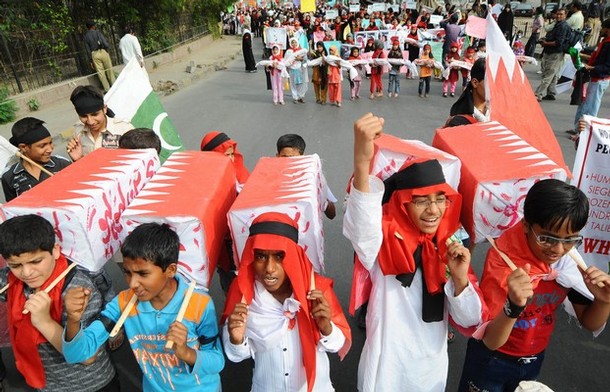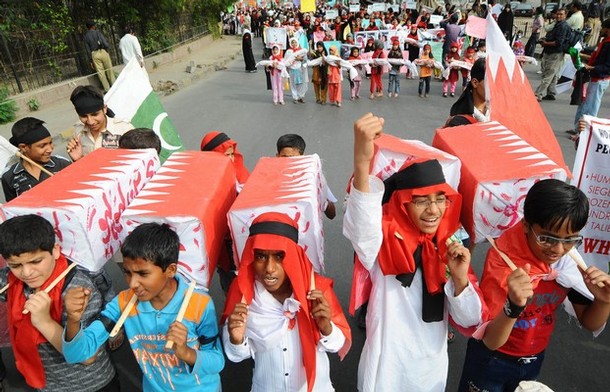 Leaders of Shia Organizations of Lahore have demanded Fouji Foundation and Bahria Foundation to stop recruitment for Bahrain otherwise their followers would surround their offices.According to the Shiite News Correspondent, They were addressing a rally taken out from Lahore Press Club to the Punjab Assembly Chowk under the aegis of Imamia Students Organisation (ISO), Majlis-e-Wehdat-e-Muslameen (MWM), Ulema-e-Imamia Lahore, Madaris-e-Diniya Lahore, and other organizations to express solidarity with oppressed people of Bahrain. The rally was attended by thousands of peoples including students, children and women and people from different walks of life.
Charged activists who gathered at Lahore Press Club were chanting slogans against US and Pakistan government. They were also carrying placards and banners inscribed with slogans against America and Israel. The activists moved from Press Club to Punjab Assembly and where they remained about more than an hour.
Speaking on the occasion, Majlis-e-Wehdat-e-Muslameen (MWM) central leader Maulana Ameen Shaheedi, Maulana Ahmed Iqbal Rizvi, Sarfaraz Hussaini, Imamia Students Organization leader Hassan Kazmi and others demanded of the Government of Pakistan and Army Chief General Ashfaq Pervaiz Keyani to immediately stop the recruitment for Bahrain saying that the people of Pakistan would not allow the Government to send the mercenaries from Pakistan to kill innocent people of Bahrain.
They expressed their solidarity with the people of Bahrain saying that this is the responsibility of the every Muslim to support the peaceful struggle of Bahraini people.
They pointed out that the basic object behind the invasion of Saudi and other Gulf Countries forces in Bahrain was to protect the fifth Navy fleet of United States saying that the Islamic uprising in Bahrain would not damage despite the conspiracies of America, Israel and Saudi regimes.
They said that  "we are against oppressor no matter he is Muslim and we will help oppressed even if he is non-Muslim".
They said that people involved in oppression on people of Middle East who were fighting for their right were not non-Muslim but troops of Saudi Arabia.
they further said that they have put the traditional oppressors of Israel to shame who were involved in torturing Palestinian people.
The Shia leaders said people facing brutality of oppressors were not Shia or Sunni but they were human being so it is our responsibility to raise voice or them.
Back to top button