Pakistan
Muslim and Christian communities in Pakistan condemn a US's pastor plan to burn the Quran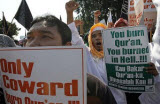 islam Times – Muslim and Christian communities in Pakistanhave strongly condemned the plan of a US's pastor to burn the copies of Quran at his church on Saturday, September 11, 2010…The Christian Pastor of church in Florida, Terry Jones has vowed to burn copies of the Quran on Saturday to protest the Sept. 11 terrorist attacks in USA.
A Muslim religious group in Pakistannamely Movement for Prophet's Honour in Pakistanin a statement on Thursday said, burning of Quran is an insult to Islam and the entire Muslim world and we can not accept it. The statement said, a number of religious scholars associated with the group held protest in the
different cities of Pakistanagainst the insulting annoucment by the American priest.
The statement demanded the government and people of Pakistanto come forward and
record their protest on the pastor's plan to insult Quran.
Meanwhile, Dr.Alexander Jaan Malik, the beshop of Lahoresaid, the USpastor,Terry Jones was not representative of whole Christian community and we strondly condemned his shameful annoucment.
The Pakistani beshop pointed out, the pastor's act can badely effect the efforts for religious harmony and unity among the different religions and US's government should make immediate action to stop the pastor from the taking such shameful act.
Back to top button