Pakistan
Protest demos in karachi to condemn Lahore blasts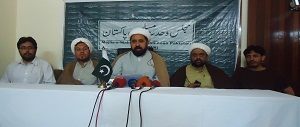 KARACHI- Several protest demonstrations on Thursday held in the metropolis to condemn the triple blast in Youm-e-Ali (AS) procession in Lahore and attack of miscreants at Karachi procession.
According to the Shiite News Correspondent, Central protest rally was organized by Majlis-e-Wehdat-e-Muslimeen (MWM) Karachi from Britto Road Soldier  Bazar to M.A.Jinnah Road. The enraged mourners staged one hour sitin protest at M.A.Jinnah Road over the government failure to protect the mourners of Imam Ali (AS).
Addressing the mourners at M.A.Jinnah Road, MWM Karachi Secretary General Mohammad Mehdi and Allama Aftab Haider Jaffari strongly condemned the attack of outlawed terrorists organizations in Lahore and Karachi and urged the government to immediately take the stern action against the terrorists involved in the heinous attacks.
They demanded of the government to immediately sack the Provincial Minister Rana Sanaullah over his allegedly links with terrorists outfit of Taliban and Lashkar-e-Jhangvi terrorists.
They said that the acts of terrorism were similar to the incidents of Ashura and Arabeen processions and Data Darbar incidents.
They criticized the links of Punjab government officials with the terrorists of outlawed organizations and asked the government to expose the real faces of terrorists and their patrons.
MWM leaders further urged the political and patriotic forces of the country to come forward to safe the country from the conspiracies of terrorists.
Meanwhile, Mourners were taken out the protest rallies from Malir and Incholi Society and staged sitin protest at Super highway and National Way to condemn the attack on holy procession of the martyrdom of Hazrat Ali (AS).
The speakers on the protest demonstrations pointed out that the Punjab government was defending and supporting the Punjabi Taliban with different names including the Sipah-e-Sahaba and Lashkar-e-Jhangvi, who continue with their activities throughout the country.
End.