Pakistan
Mass funeral prayers held in Lahore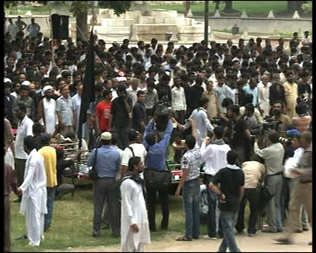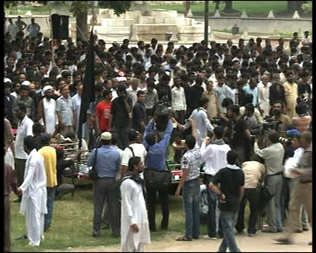 Funeral prayers of Eight martyrs of Youm-e-Ali (AS) procession have been offered in Nasir Bagh Lahore.
Thousands of mourners were attended the funeral prayer of martyrs led by Agha Syed Haider Ali Moosavi at Nasir Bagh despite blocking  of all roads approach to Nasir Bahg by the local administration in the name of security arrangementts.
Noted Scholar Allama Ameen Shaheedi, Allama Hassan Zafar Naqvi, Agha Syed Jawad Naqvi, Maulana Abdul Khaliq Asadi, Maulana  Ejaz Bahisti, Maulana Abuzar Mehdvi, Maulana Afzal Haideri, Central leaders of Imamia Students Organization, Majlis Wehdat-e-Muslimeen and people from all walks of life present on the funeral prayer of martyrs.
Neither a leader of any political party nor any representative of the government were present in the funeral prayer of martyrs of Youm-e-Ali (AS) procession in Lahore.
MWM Central Information Secretary Nasir Sherazi talking to the Shiite News said that more than 40 mourners were martyred in the triple bombing incidents saying that funeral prayer of eight martyred has been offered on Thursday morning at Nasir Bagh. However some of bodies were shifted into their native areas, while, some of the martyrs were buried on Wednesday night due to the criticial position of their bodies.
Meanwhile, The funeral prayers for 14-year-old Hafiz Wahab and 12-year-old Ibrar were offered in Eid Gah and burried at the Miani Sahib graveyard.
Funeral prayers for Mazhar Sheikh were offered at Imam Bargah Mochi Gate and he was burried at the Firdousia graveyard on Ferozpur Road.