Pakistan
Shia youth martyred in a terrorist attack by takfiris of banned ASWJ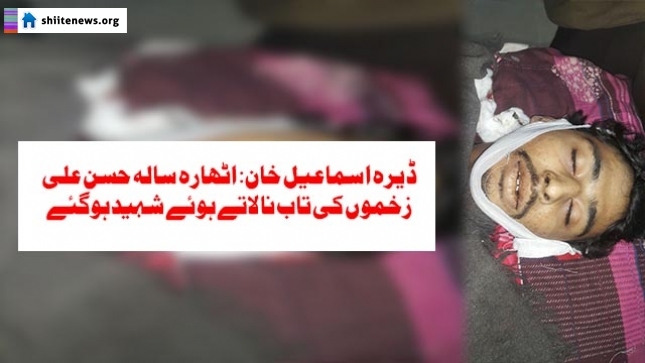 In Dera Ismail Khan, a Shia youth embraced martyrdom due to targeted attack on his life by takfiri terrorists of banned outfit AWJ, mother wing of Lashkar-e-Jhangvi.
Syed Hassan Ali, son of Syed Ghulam Akbar alias Gullu Shah was attacked near Eid Gah Kallan area in Dera Ismail Khan. He sustained critical wounds due to bullet injuries. He was being shifted to Islamabad for needed treatment when he breathed his last in Tala Gang area.
Syed Hassan Ali was resident of Haji Mora area. His paternal uncles Mumtaz Hussain, a teacher and Kifayat Hussain also embraced martyrdom due to firing of terrorists.
On the one hand, terrorists continue to attack Shia Muslims and on the other hand security agencies continue illegal and undeclared detention of innocent Shiites.