Pakistan
MWM stages rally near US Consulate in Karachi, torch Israeli and US flags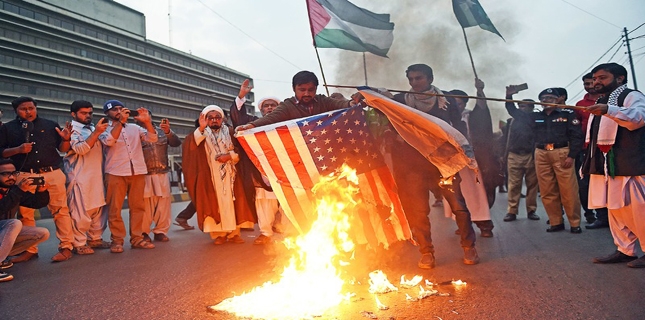 Majlis Wahdat-e-Muslimeen (MWM) staged main protest rally near US Consulate in Karachi and torched US and Israel's flag on Sunday to register protest against the recent decision by US President Donald Trump to recognise Jerusalem as the capital of Israel.
The MWM supporters began their protest rally from Numaish Chowrangi on main M.A. Jinnah Road and travelled through various routes before arrived on M.T. Khan Road, which leads to the US consulate. This was the main protest that was held near the US Consulate in Karachi where they burnt flags of the United States and Israel and chanted slogans. However, no untoward incident was reported from any area.
Speaking on the occasion, the MWM leaders said that if the Arab regimes had not colluded with the US, Washington would not have dared to declare the Muslims' first Qibla as the capital of the illegitimate Jewish state that is the racist entity. Donald Trump has violated the international law and hatched a conspiracy to engulf the Middle East in flames, they added.
The religious leaders asked the Muslim rulers to repent for their alliance with US and covert ties with the Zionist Israeli regime and chalk out a joint future line of action.
They were of the view that since the Arab states were major buyers of arms from the US, their [Arab's] possible decision of ending diplomatic ties may force Trump to take back his decision.
Apart from them, other religious and political groups also held protests in Karachi. Several arteries were closed particularly in the South district leading to the American consulate. The police had already placed containers and created temporary hurdles, preventing the protesters from moving toward the consulate.
Karachi-South DIG Azad Khan said that the protesters on M.T. Khan Road dispersed peacefully after delivering speeches.