Pakistan
Sit-in staged in protest against Shia genocide in Dera Ismail Khan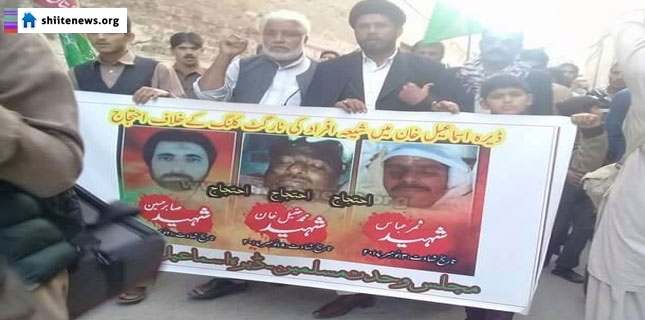 The supporters of the Majlis-e-Wahdat-e-Muslimeen staged a sit-in at the Circular Road in Dera Ismail Khan to register protest against the targeted murders of three Shia teachers and poets within a span of 8 days.
Carrying placards and banners, they demanded immediate capital punishment to the terrorists involved in the genocide against Shia Muslims in Dera Ismail Khan and other parts of Pakistan.
Maulana Ghazanfar Naqvi of MWM Dera Ismail Khan and other eminent Shia notables spoke to the protesters. They condemned the Shia genocide and lambasted the government for its inaction against the terrorists that encouraged them to continue to murder innocent Shia Muslims.
They warned that they would stage next sit-in on December 1 against the KP government if their demands were not met. They said that targeted murders of Shia Muslims in Khyber Pakhtunkhwa and other incidents of terrorism exposed the empty claims of PTI leadership of law and order in the province.