Pakistan
Eyeing 2018 Elections, Deobandi parties revived MMA with Sunni-Shia parties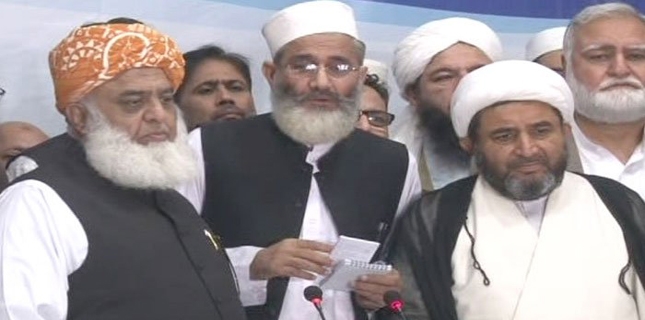 After months long backdoor efforts, Deobandi religious parties JUI-F, Jamaat-e-Islami and allied-Ahl-e-Hadees party have announced restoration of Muttahida Majlis-e-Amal that will also include a Sunni Bralevi and a Shia religio-political party.
The decision for revival of the MMA was made at a meeting of top leaders from Jamaat-e-Islami, Jamiat Ulema Islam-Fazl and other parties. Allama Arif Wahidi of Tehreek-e-Jafaria/Islami Tehreek also attended the meeting.
Speaking to media along with leaders from other parties, Sirajul Haq said they have decided in principle to restore the MMA, of which a formal announcement would be made next month in Karachi.
He said a consensus on restoration of the MMA was achieved in the light of recommendations presented at the meeting and they would hold a meeting at the residence of the Sunni Bralevi JUP-Noorani leader Shah Owais Noorani in Karachi in the mid of December.
"We understand that elections should be held on time, in accordance with the constitution," Haq said, adding the parties which were not represented at Thursday's meeting would also be approached.
Reports had it that Deobandi parties mainly the JUI-F is seeking to bolster its position in the 2018 Elections to share power with the mainstream powerful parties.
MMA was formed to contest 2002 elections and speculations had it that its formation was result of a deal with the power that be hence the alliance was also called Mulla-Military Alliance by the critics.