Pakistan
Rallies staged in Islamabad to protest against abduction of Nasir Shirazi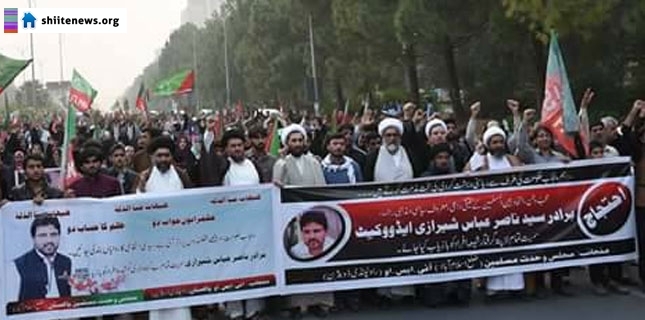 The supporters of Majlis-e-Wahdat-e-Muslimeen, Imamia Students Organisation and other parties led by MWM chief Allama Raja Nasir Abbas Jafari staged a rally from Islamabad Press Club to D Chowk to register protest against the enforced disappearance of MWM deputy secretary general Syed Nasir Abbas Shirazi.
Carrying banners and placards, the protesters were raising slogans against the Punjab Chief Minister Shahbaz Sharif and Law Minister Rana Sanaullah.
Another demonstration was held outside the Nation al Press Club Islamabad where Nisar Faizi led the protesters.
Allama Raja Nasir said that Nasir Shirazi was detained at the private torture cell of Punjab Law Minster Rana Sanaullah and police officer Rai Tahir. He demanded of the President, Prime Minister, Chief Justice of Pakistan and Army Chief to ensure immediate release of eminent political leader Nasir Shirazi forthwith.
Ansar Mehdi, ISO president, said that Nasir Shirazi also served Imamia Students Organisation as its central president and he is an active and representative political leader of youths. He criticized the rulers for bad governance and corruption and demanded that there must be an end to victimization of political opponents such as Nasir Shirazi.