Pakistan
Security bodies continue to play role in national interest, say army top brass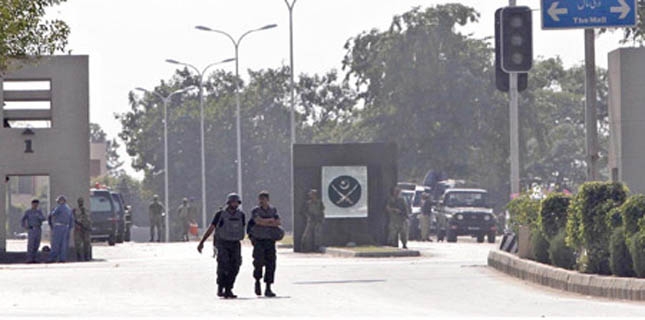 Military commanders emphasised on Thursday that Pakistan's on­going counterterrorism campaign would continue to be driven by national interest. "The forum concluded that security apparatus shall continue to perform its role in line with national interest," military's public affairs division said after a meeting of the corps commanders at the General Headquarters, without elaborating whether it meant an intensification of current operations.
The meeting was presided over by Army Chief Gen Qamar Javed Bajwa, according to the Inter-Services Public Relations (ISPR).
The military's top brass took the decision after deliberating on US Secretary of State Rex Tillerson's visit to Islamabad and other engagements with the Trump adm­inistration over the past couple of months and Gen Bajwa's meeting with Afghan President Ashraf Ghani.
The future trajectory of counterterrorism actions was also on the meeting's agenda.
"Internal security situation, progress of ongoing counterterrorism operations and its projection to achieve enduring peace and stability were discussed," the ISPR said.
Secretary Tillerson, during his meeting with Pakistani leaders, which was also attended by Gen Bajwa, had conveyed the Trump administration's demand for action against terrorist groups that have allegedly taken refuge in safe havens on Pakistani soil. The two sides had agreed on intelligence sharing and coordination in their counterterrorism actions.
The Trump administration, it is said, has provided a list of terrorist groups and suspected terrorists to Pakistan, which are believed to be operating along the Pak-Afghan border.
Briefing the US Senate Foreign Relations Committee on his visit to Pakistan, Mr Tillerson told American lawmakers that "Pakistanis have indicated — if we provide them information, they will act. We're going to have to test that, give them an opportunity to do so… so, we are going to enter into an effort to have greater sharing of certain intelligence information".
Earlier this month, Pakistani troops acted on intelligence provided by US and rescued American national Caitlan Coleman, her husband Joshua Boyle and their children. The rescue operation was celebrated as an indication of resumed cooperation between the US and Pakistan.
President Trump, while hailing the recovery of the American family, said: "The Pakistani government's cooperation is a sign that it is honouring America's wish that it do more to provide security in the region. … They worked very hard on this and I believe they are starting to respect the United States again."
Meanwhile, talking about development projects in the militancy-hit area, Gen Bajwa told his commanders that there would be enhanced focus on similar socio-economic development efforts in Balochistan as part of effort to consolidate operational gains.