Pakistan
MWM Chief meets Allama Hassan Zafar, Allama Ahmed Iqbal at police stations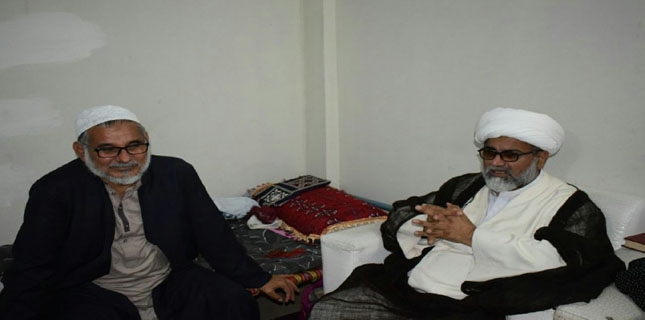 Majlis-e-Wahdat-e-Muslimeen secretary general Allama Raja Nasir Abbas Jafari has met Allama Syed Hassan Zafar Naqvi and Allama Syed Ahmed Iqbal Rizvi at police stations in Karachi where they have courted their arrest in protest against the enforced disappearances of innocent Shia notables, youths and scholars.
Allama Raja Nasir Abbas Jafri remained with them for some time and exchanged views on the efforts of Missing Shias Release Committee for the release of innocent Shias.
"I reiterate that we don't demand any favour. We demand release of all innocent Shias forthwith. If they are named in any case, they should be produced in courts for trial and there is no third option in their cases," said Allama Raja Nasir, adding that detention of these Shias was illegal and violation of their fundamental human rights.
He said that the enforced disappearances of innocent citizens of Pakistan has defamed Pakistan across the world hence the government and other relevant authorities should ensure that victims of the enforced disappearances should be released or produced in the courts of law.
He said his party supports the legitimate demands of the missing Shias and its two leaders courted arrest for this cause was to mark support to and solidarity with the heirs of the victims of the enforced disappearances.