Pakistan
South Punjab supports Fill the Jails Movement for release of missing Shias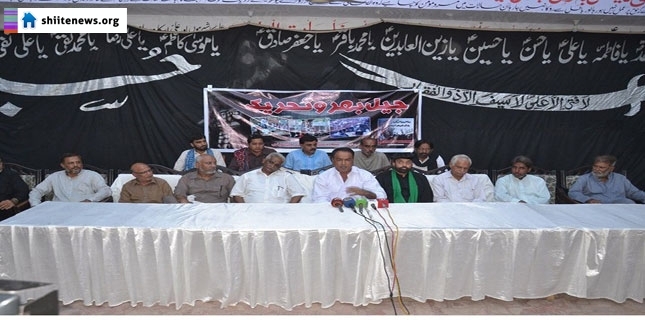 The leaders of Shia Missing Persons Release Committee South Punjab chapter have addressed a joint press conference in which they vowed that the Jail Bharo Tehreek would continue till the release of those innocent Shia Muslims who were subjected to the enforced disappearances.
Those who spoke at the press conference at Jamia Shaheed Mutahri included: Makhdoom Abbas Raza Mashhadi, Syed Asad Abbas, Qazi Ghazanfar Hussain Awan advocate, Syed Iqbal Mehdi Zaidi advocate, Syed Shoaib Naqvi, Syed Manzar Abbas Zaidi, Syed Qamar Abbas Naqvi, Itrat Abbas, Syed Arif Akhtar Kazmi, Syed Zaki Naqvi, Mir Mazhar Abbas Kaat, Ghulam Abbas Baloch, Hasnain Karbalai, Syed Dilawar Abbas Zaidi, Malik Amir Khokhar, Mumtaz Hussain Sajidi and Syed Nasir Abbas.
They accused former prime minister Nawaz Sharif and his brother Shahbaz Sharif, Punjab Chief Minister of victimizing Shia Muslims soon after they assumed power at the Centre and in Punjab. They said that innocent Shia Muslims were subjected to enforced disappearances without any charge.
They said that Shia Muslims have always turned down oppressors and always supported the victims of oppressions hence they continue their traditional stance and struggling for the release of illegally rounded up innocent Shia notables, youths and scholars. They announced their all out support to the Fill the Jails Movement and vowed that their campaign would be continued till release of the missing Shias.