Pakistan
Dr Aqeel Moosa, Meesami, lawyers' delegation meet Allama Hassan Zafar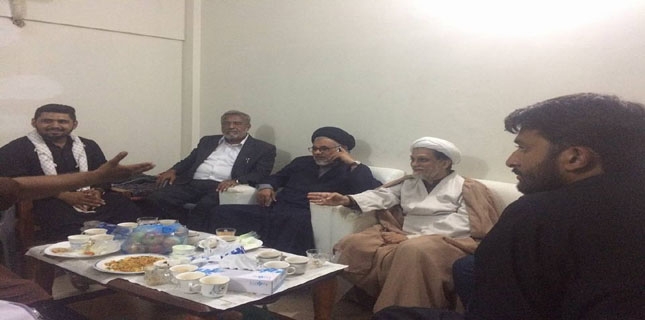 Dr Aqeel Moosa, a senior cleric and member of nazarat committee of Imamia Students Organisation (ISO), Allama Dr Shabbir Meesami of Shia Ulema Council Pakistan and a delegation of lawyers led by Naeem Qureshi Advocate called on Allama Hassan Zafar Naqvi to express their solidarity with him and support his Jail Bharo Tehreek or Fill the Jails Movement.
Their meeting with Allama Hassan Zafar was held at the Baghdadi police station where the latter had courted his arrested and stayed there since Friday last.
Officials of the ISO Karachi chapter accompanied Dr Aqeel Moosa. ISO had already announced its support to the demand for release of missing Shia Muslims.
The leaders of these three delegations exchanged views with Allama Hassan Zafar and assured him their support to the legitimate cause of missing Pakistani Shia citizens. They said that legal and constitutional rights of Pakistani Shia citizens should not be denied to them and they must be allowed to enjoy free life. They said if they were wanted in any case then they should have been produced in the court for trial and they must not have been detained illegally after undeclared arrests. They said their enforced disappearance showed that their detention was unjustifiable and they were not named in any case hence they deserve immediate release from the captivity of their captors.