Pakistan
Allama Hassan Zafar along with elderly father of missing Shia go to jail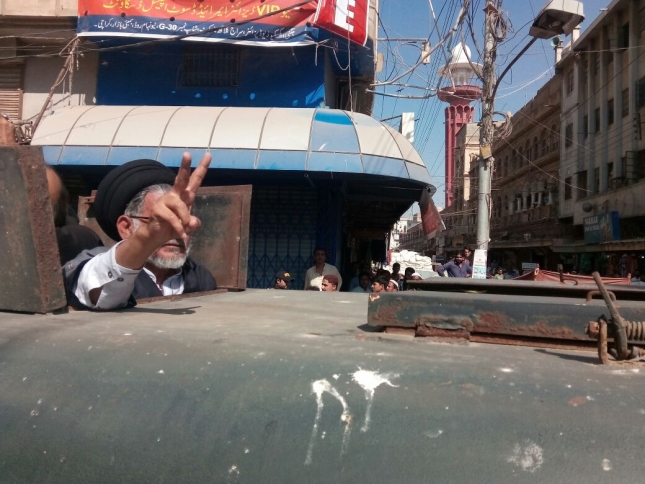 The "Fill the Jails Movement" in support of missing Shia Muslims began as Allama Syed Hassan Zafar Naqvi, deputy secretary general, Majlis-e-Wahdat-e-Muslimeen offered himself for arrest along with the nonagenarian father of rights activist Syed Samar Abbas and two others outside the Khoja Isna Ashri Jamey Masjid in Karachi after Friday prayers.
Yaqub Shahbaz of Shia Ulema Council, Syed Tasawwur Hussain Rizvi, head of Jafaria Legal Aid and Syed Saghir Abid Rizvi of All Pakistan Shia Action Committee also offered themselves for arrest. Police took them in a mobile amid the slogans of sloganeering supporters who were raising Labbaik Ya Hussain (AS).
Allama Syed Ahmed Iqbal Rizvi, Allama Mukhtar Imami, Alama Dost Ali Saeedi of the MWM, Allama Sadiq Taqvi, Mubashir Zaidi, Hassan Raza Sohail and many other eminent figures were among those thousands who protesters who participated in the demonstration that was held before the arrest of Allama Hassan Zafar and three others. They were carrying the portraits of the missing Shias. They also announced their support to the Fill the Jails Movement and many would offer themselves for arrest in next phases. Allama Mirza Yousuf Hussain, Maulana Dr Aqeel Moosa and Allama Ahmed Iqbal will offer arrest in next phases of the Jail Bharo Tehreek. Representatives of human rights organizations and civil society also attended the protest and express solidarity with the legitimate cause of the missing Shias.
Speaking to the protesters before his arrest, Allama Hassan Zafar made it clear that Pakistani Shia Muslims are loyal, patriot and law-abiding sons of this motherland. He said they believe in rule of law, peace, fraternity, unity and cohesion that is why they remained peaceful during Ashura mourning processions also despite the fact that their near and dear ones have been subjected to enforced disappearance. He said that Shia Muslims don't want confrontation but this mature policy should not be misunderstood as weakness.
"It was legal right of all the missing Shias that they should have been produced in courts of law if they were accused of anything but they were not produced in the courts that meant they were not wanted in any case hence it is legitimate demands of their heirs that they must be released forthwith," he said, adding that Shia Muslims were demanding no favour but they were calling for their legal rights be granted to them.
He said that almost all Shia parties and leaders have joined this movement and all demand release of innocent Shia Muslims without any delay.
Allama Hassan Zafar announced that supporters of the missing Shias would continue to protest till these missing Shias get their legal and constitutional rights. He said that more leaders would offer themselves for arrest in the next phase.