Pakistan
Jail officials who helped Deobandi LeJ terrorists flee, booked: AIGP CTD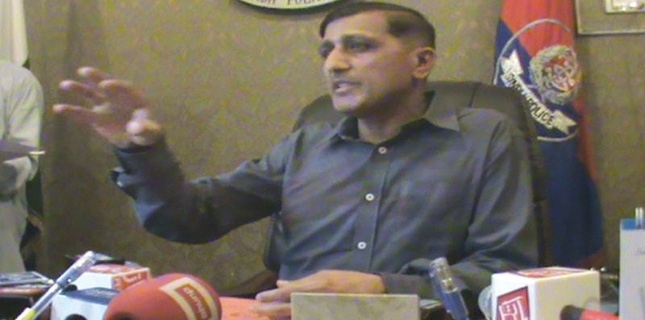 Several Karachi Central Jail officials, including a jail superintendent, have been booked on charges of aiding the escape of two high-profile Lahskar-e-Jhangvi (LeJ) militants, Additional Inspector General (AIG) Counter-Terrorism Department (CTD) Dr Sanaullah Abbasi said on Monday.
According to the first information report (FIR), a copy of which is available, the case has been lodged on the basis of a search operation carried out in June by Rangers and Frontier Corps (FC) personnel in the jail following the escape of Shaikh Muhammad Mumtaz ─ aka Firoon aka Sher Khan aka Shahzad aka Rahi ─ and Muhammad Ahmed Khan aka Munna.
Mobile phones, air coolers, knife-cutters, freezers, stoves, DVD players, LED TVs, other contraband items and Rs3.5 million in cash were recovered from the jail during the operation, while 12 staff members, including Central Prison Superintendent Ghulam Murtaza Shaikh, were suspended after the jailbreak.
The CTD registered the FIR — 145/2017 — under Sections 119 (public servant concealing design to commit offence which it is his duty to prevent), 130 (aiding escape of, rescuing or harbouring such prisoner), 201 (causing disappearance of evidence of offence, or giving false information to screen offender) and 222 (intentional omission to apprehend on the part of public servant bound to apprehend person under sentence or lawfully committed) of the Pakistan Penal Code (PPC) and sections of the Anti-Terrorism Act.
AIG Abbasi said that this was the 'first time' that the case has been registered on the basis of a 'search operation' in the prison. He said that the department would also look into the "possibility of criminal conspiracy and assistance" of the escaped militants by jail officials.
Whereabouts of the two individuals allegedly involved in targeted killings of around 60 persons, including members of the Shia community and law enforcers, are not yet known. Last week, it was reported that the two have crossed over into Afghanistan, according to the CTD.