Pakistan
Deobandi terrorist group Ansarul Sharia to be banned soon, says Interior Minister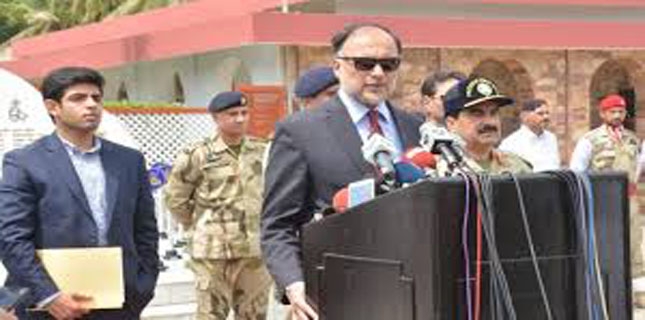 Interior Minister Ahsan Iqbal on Wednesday revealed that the government has decided to place a ban on (Deobandi) militant group Ansarul Sharia Pakistan (ASP).
Iqbal, addressing the Senate Standing Committee on Interior, said that a leader of the group and four of its main members have been arrested and expressed hope that soon, ASP's entire network would be taken down.
The minister said that efforts were underway to track down other members of the group, adding that arrests would soon be made.
Iqbal added that Director General (DG) Rangers Muhammad Saeed had provided a briefing in relation to the group.
"No group or party will be permitted to engage in provocative actions."
ASP has been linked to the attack on MQM-P leader Khawaja Izharul Hassan which took place on the first day of Eidul Azha in Karachi. Hassan, who is the leader of the opposition in the Sindh Assembly, escaped unhurt.
The ASP has been active since at least February when its members gunned down a guard of Police Foundation in an attack in Gulistan-i-Jauhar.
In April, they claimed the responsibility for killing a retired colonel in the Baloch Colony area.
At least 7 police officers have been killed up till now in attacks carried out by the group in Karachi's SITE, Bahadurabad, Azizabad, Northern Bypass and Gulistan-i-Jauhar areas.
Earlier this month, the the Al Qaeda-inspired militant group ─ comprising hardly 10 fighters ─ has been busted with almost all its members taken into custody and being interrogated.