Pakistan
TTP militants behind police killings gunned down in Karachi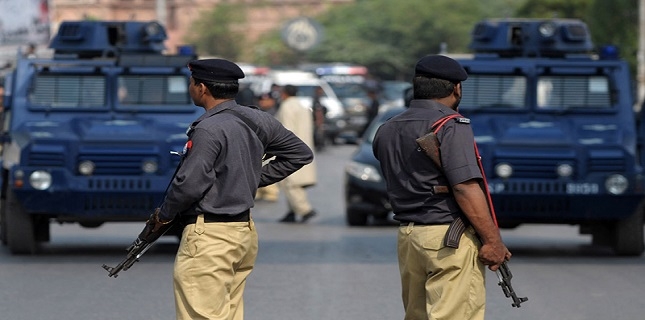 During a pre-dawn encounter in Korangi neighbourhood, the Counter-Terrorism Department (CTD) claimed to have killed on Saturday two militants involved in police killings.
The two suspects, according to the CTD police, were killed when police, in a joint operation with Rangers troops, raided the hideout of militants at Noorani Basti area in Korangi Saturday morning.
CTD officials said the encounter took place when the militants attacked the CTD police and the paramilitary troops.
"They [the militants] attacked us with heavy firing and even hurled hand grenades at us when we managed to reach close to their hideout," said CTD in-charge Raja Omar Khattab, flanked by CTD DIG Amir Farooqui, while holding a press conference on Saturday.
"Two militants were killed after we retaliated with full force while the others managed to escape the scene," he said.
The deceased were identified as Irfanullah alias Hammad alias Sheena and Nasir alias Khalid. They were associated with the Mufti Shakirullah group of Tehreek-e-Taliban Pakistan (TTP). The CTD police also claimed to have recovered a huge cache of explosives, detonators, two pistols and pamphlets from their possession.
CTD officials claimed that the terrorists had planted a time bomb at their hideout to kill the cops during the raid; however, the bomb was defused by experts of the bomb disposal squad.
"The terrorists killed were involved in police killings in Karachi," explained Khattab. "The forensics report of the two pistols recovered from their possession suggested that the militants were involved in at least two attacks on police in Karachi at Abul Hassan Isphani Road and Korangi neighbourhood."
Sindh IG Allah Dino Khawaja also announced a Rs5 million reward for the CTD team for conducting a successful operation.
Karachi has witnessed ten consecutive attacks on police in various areas of the metropolis since the beginning of this year.
Three policemen and a passerby child were killed when gunmen riding on at least three motorcycles targeted and opened indiscriminate fire at the police mobile van of Awami Colony police station near Darul Uloom in Korangi on Friday July 21.
Besides this, a police traffic warden, Khan Muhammad, was killed and another wounded critically in a firing incident while the officers were busy maintaining traffic at Abul Hassan Isphani Road on July 24. The attackers also took the official MP-5 rifle from the traffic warden before fleeing the scene.
It was said that militants Nasir and Irfanullah were taken into custody over a week ago, however, CTD officials denied such reports.
"The forensics have already confirmed that these two [militants] were involved in these two attacks on police. We have also recovered the official MP-5 rifle from them. So there should be no doubt left. Even TTP had claimed responsibility on social media for these two attacks," claimed CTD Intelligence SSP Omar Shahid Hamid while talking to The Express Tribune.
This was the third encounter in the last two weeks in which CTD police killed militants. Earlier, CTD police claimed to have had killed and arrested members of the same group in two separate encounters.
On August 7, CTD had claimed to have dismantled two "sleeper cells" of the banned militant outfit by killing three members of the sleeper cells and arrested four others during separate pre-dawn raids on MA Jinnah Road and Macchar Colony area. They also claimed to have killed two TTP militants in Manghopir on August 15.
"With the killing of these two militants, so far we have killed seven militants and arrested four others in this month," said SSP Hamid, adding that all the men belonged to the same group – Mufti Shakirullah who has been linked to the Afghanistan's intelligence agency National Directorate of Security (NDS).
However, all these groups and sleeper cells had different tasks, Hamid said.
Although CTD claimed to have dismantled the sleeper cells of the TTP's Shakirullah group and probed the two attacks on police in Karachi, eight more cases of attacks on police have yet to be probed.
The CTD investigators believed that one or two more groups responsible for the police killings are still operating.
A newly-emerged militant group, Ansarul Shariah Pakistan (ASP), has already claimed responsibility of the attacks on police in SITE area in which four policemen were killed, on traffic DSP and his gunman's killing in Azizabad, the attack on police volunteers in Northern Bypass in which one was killed and another was wounded critically, the attacks on a police mobile van in Dhoraji area, the killing of two cops and a police volunteer killing at Sharae Faisal.
"The forensics and modus operandi of these five cases have also confirmed the involvement of ASP," SSP Hamid explained. "Now it has yet to be ascertained which group is behind the remaining cases."