Pakistan
Army Chief urges students to stay away from hostile ideas on social media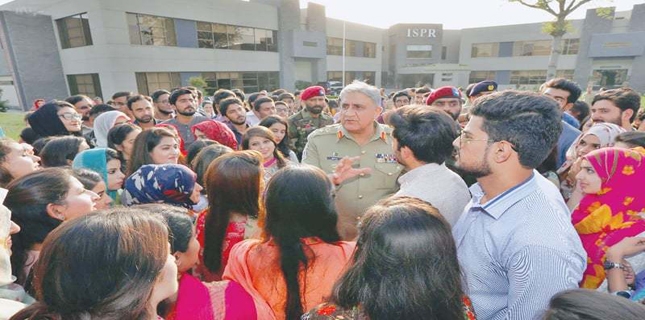 Chief of the Army Staff (COAS) Gen Qamar Javed Bajwa has called for young educated people of the country to remain mindful and vigilant of hostile ideas being propagated on social media, saying that they are prime target of militant Islamic State group and other extremist organisations.
He was speaking to students participated in the annual internship programme of the Inter-Services Public Relations (ISPR) during his visit to its directorate on Thursday.
The COAS congratulated the students on successful completion of the internship programme.
He said that Pakistan was blessed with most talented and vibrant youth and that the future of the country belonged to them.
He said he had full confidence and optimism that the Pakistani youth realising their potential would lead the country to a new era of peace and progress. He asked the students to have confidence in themselves, adhere to merit, follow the rule of the law, and never look for shortcuts in life for success.
In reply to a question as to how he maintained his morale amid so many challenges and pressures, the COAS said that the selfless motivation of his outfit [Pakistan Army] and the hope he saw in the future of Pakistan [the youth] kept him motivated and committed to the cause.
Gen Bajwa also assured the students that the Pakistan Army was committed to providing them a safe, secure and stable Pakistan. The army was capable of facing all internal and external challenges and had achieved great successes in its goal of ridding the country of violence and terrorism, he said.
He said that for an enduring peace in the country all Pakistanis would have to play their role. "Every Pakistani is a soldier of Ruddul Fasaad operation," he added.
"Your success and progress in life depends on three things: faith in Allah, serve your parents and hard work. This trinity is key to success," the COAS remarked in reply to a question about key to success in life.
The annual Internship Programme 2017, held from July 11 to Aug 17, comprised students from various educational institutions across the country, including Fata.
APP adds: Commander of the Polish Land Forces Brigadier General Wojclech Granowshi called on the COAS at the General Headquarters on Thursday.
During the meeting, the two leaders exchanged views on regional security situation as well as defence, training and bilateral security cooperation, said a statement issued by the ISPR.
Gen Granowshi was given a detailed briefing on operational and training activities of the Pakistan Army.
According to the ISPR, the commander acknowledged and appreciated Pakistan's efforts in the fight against terrorism.